The Online Architecture and Design Exhibition

Option for central part: Wood or upholstered with fabric or leather 10cm thick head-board Integrated bedside drawers Removable slatted wooden bed base Mattress not included Delivered in kit form
See the other products
XVL HOME COLLECTION

double bed
SKIP by R.D.A.
Completely balanced, wood or coated panels create a play of asymmetry which gives visual merit to the headboard.
See the other products
Alf Uno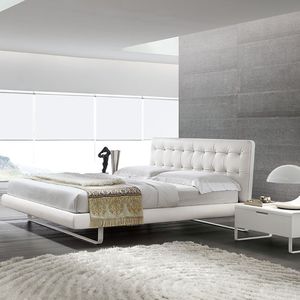 double bed
BLADE by Giuseppe Bavuso
The Blade/A bed with high or low headboard Blade/B with a unique finish with visible passing ribbons, creating a lovely matelassé effect. Available with legs and frame in chrome-plated or lacquered steel. Headboard and ...
See the other products
ALIVAR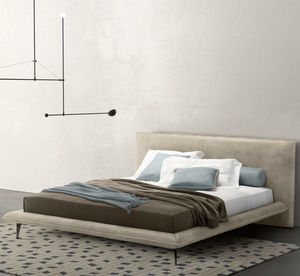 Hard wood frame. Headboard in polyurethane. Base in polyurethane. Headboard height 97 cm - 38". Base height 29 cm - 11". Chrome legs height 16 cm - 6". Mattress not included in the price. European ...
See the other products
Gamma Arredamenti International

double bed
LOTUS by Silvano Barsacchi
... 134. D 219. H 97. (bed base 120x190) L 134. D 229. H 97. (bed base 120x200) L 174. D 219. H 97. (bed base 160x190) L ...
See the other products
Mercantini Mobili

... panels in wooden particles. Upholstered in polyurethane foam, remouvable cover. W 200 D 220 H 32 / 130 (Spring of cm 160x200) W 220 D 220 H 32 / 130 (Spring of ...
See the other products
Casamilano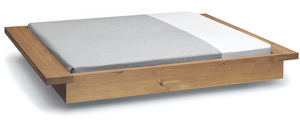 double bed
PA02 NOAH by Philippe Allaeys
The bed NOAH with its architectural form is especially compelling due to the extended frame on both sides that can also act as a shelf. The floating character of NOAH bed stands in an interesting contrast ...
See the other products
e15

... Chianti col. Nero cat. 600 optional scatter cushions -bolsters included Orthopedic wooden slats 180×200 – included Optional mattress 180×200 H. 19 cm. Bed ...
See the other products
Mantellassi 1926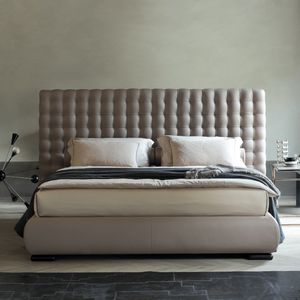 ... of Renaissance residences. But the harmony of the volumes and the linearity of the pro le make it a decidedly contemporary bed.
See the other products
Twils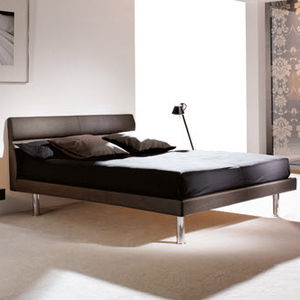 Headboard Cala 68 Frame Nº 1 Round Chrome Leg Bedside Table Plaza 33 NOTE: This headboard could be convined with the frames Nº1, 2, 3, 4, 5 y 6.
See the other products
GRUPO CONFORTEC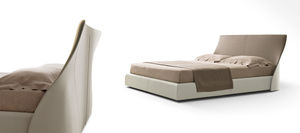 ... one colour or two colours with the external part of the headrest and the bed frame in leather and the internal part in fabric or leather. cm 206 x 230 x h 102 in 81 ...
See the other products
GIORGETTI

... is available in white, black, dark brown and beige. The bed is available in two widths: 1910 mm x 2340 mm (length) x 792/941 mm (height) (for a 1600 mm long mattress) 2110 mm x ...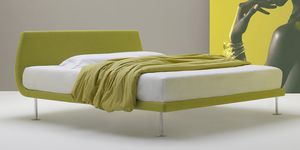 Design : FrauFlex BED COVERING : fabric NATIVA FLASH colour 804 sizes L171XD221 with mattress L160XD200 L181XD221 with mattress L170XD200 L191xD221 with mattress ...
See the other products
FRAU FLEX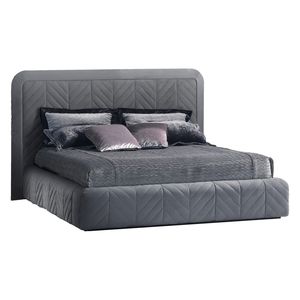 Fix padded double bed with frame Technicals Sizes: 245 x 141 x 224 cm Sizes: 245 x 141 x 229 cm
See the other products
SMANIA

double bed
MAYBE by Enrico Cesana & Ivano Redaelli
See the other products
IVANO REDAELLI

Bed in cherry wood with walnut inserts. Upholstered headboard. Finish as photo col. 20 Dimensions: H. 154 - W. 192 - D. 217 (Int. 181x201)
See the other products
ANNIBALE COLOMBO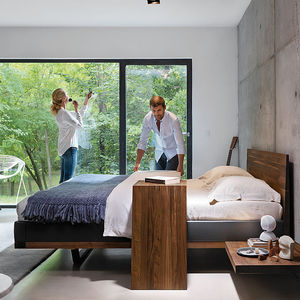 double bed
RILETTO by Kai Stania
In this bed you don't fall asleep, you float. Recessed slides make our award-winning riletto bed appear to float. Its optical lightness is also emphasised by its fine proportions. The headboard and sides ...
See the other products
TEAM 7

268X223 H152, SPRING BASE 180X200 | MAVAILABLE MEASURES | NABUCK SABLE | MIDNIGHT GRAPE
See the other products
baxter

double bed
MOONWALKER by Katja Falkenburger
... similar way than the Eierman shelf: reduced to the essential. One of the archetypes of a bed. The rectangular edges and the shallow profile make this solid oak bed appear light and elegant. The night ...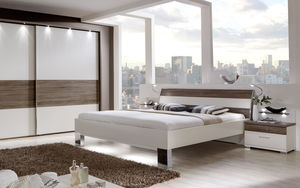 ... optionally with revolving doors and in widths from 50 cm to 400 cm. The wardrobe with sliding doors is available in widths of 200 cm, 250 cm and 300 ...
See the other products
Wiemann

double bed
KOSI BOARD by Moritz von Schmeling
KOSI Boxspring – the unusually light box spring bed. While offering the comfort of a box-spring bed, unlike conventional systems, KOSI has an exceptionally light expression. What's innovative about KOSI ...
See the other products
ZEITRAUM

double bed
COCO by Domenico Mula
Bed with box-spring base with removable fabric cover. Rhomb quilted, headboard with piping available in three different heights 113, 123 or 133 cm, abs hidden feet.
See the other products
DOM edizioni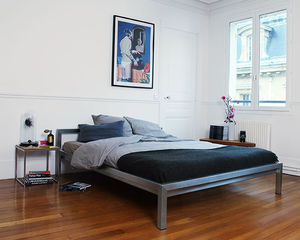 double bed
H 666-L VA PURE
H 666 VA PURE Bed frame Frame: stainless steel brushed Size: 1708 x 2098 mm Mattress size: 1600 x 2000 mm Head piece height: 600 mm Inlay depth: 115 mm

Double bed with removable upholstery with or w/out a storage unit. Bed with finished back.
See the other products
Tomasella Compas