How to choose this product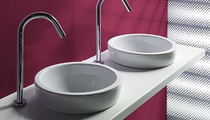 Double sinks are usually found in a bathroom. In private homes this arrangement allows two people to wash at the same time. In public and commercial settings, installing a unit with twin basins may be more efficient than two separate sinks. On ArchiExpo, these items are defined by properties including type and material.
How to choose
Determine the most appropriate installation configuration. Wall-mounted sinks require a sufficiently sturdy wall to support the weight and withstand possible misuse. They also provide storage area beneath.

Integrating both basins into a single unit can facilitate cleaning, thereby reducing the risk of mold. Sink height is also important. Other factors include ease of use and maintenance, and coordinating style with the surrounding decor. The basins should be large enough to prevent spills.