... and Malaysia we produce polyolefin foams. Our products are used in various industries like automotive, construction and insulation, leisure and professional sport, adhesive tapes, footwear and packaging. Despite being ...
See the other products
TROCELLEN GMBH

acoustic insulation
ISOLMASS 11
Isolmass is the alternative sound insulation solution. Trocellen developed Isolmass in order to satisfy those customers who prefer not using lead with their sound insulation ...
See the other products
TROCELLEN GMBH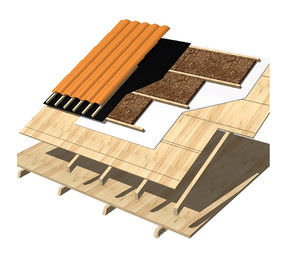 acoustic insulation
TERMACORK BROWN
... Sheets of ecological cork insulation with great power of acoustic and thermal absorption - Cork is an ecological insulator which perspires, hence allowing interior ...
See the other products
CORK 2000, S.L.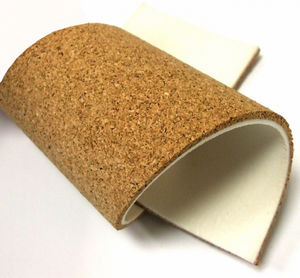 sound insulation
CORK-FOAM PADS
Combination of cork-foam widely used as a material to absorb the vibrations which occur in the transporting of glass panels or other fragile items. STAINLESS cork pads can be described as a combination of cork and foam which acts as ...
See the other products
CORK 2000, S.L.

acoustic insulation
MICRO-PERFORATED
... manufacturing, and with our state-of-the-art equipment and facilities. The result: Superior quality, high-performing, stylish acoustical panels, core made with 100% recycled wood fiber and a relentless devotion to ...

acoustic insulation
YELOFON® HD10+
... lightweight, easy to install system that delivers unrivaled acoustic performance when used to isolate a floating screed from structural concrete floors. Superior impact sound deadening properties Suitable ...
See the other products
Cellecta

acoustic insulation
YELOFON® ES & FS
... strips) are lightweight, flexible extruded polyethylene strips. When installed around the floor perimeter they will eliminate acoustic flanking with the wall and the treatments Excellent isolation properties ES strips ...
See the other products
Cellecta

acoustic insulation
SARAY ACP
Saray ACP consists of a white-coloured low density polyethylene core bonded between two aluminium alloy sheets. Aluminium sheets can be coated with PVDF or Polyester paint. Saray Composite Panels are mainly used for external cladding ...

acoustic insulation
THERMOCORE 1000
Thermocore 1000 is an insulated roof panel used for pitched metal roofs. Due to its metal inner and outer sheet, this panel can combine thermal resistance and big spans. The minimal pitch for its application ...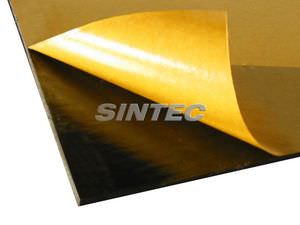 ... compounds used for sound insulation. CP sheets are attached to other materials in order to increase the mass and, consequently, the insulation of vertical and horizontal elements. ...

acoustic insulation
ACUSTILASTIC-N
... for the insulation of solid or structural vibrations, ideal for the construction of floating floors. Acustilastic-N is the best solution for floating floors in a rapid, precise and effective manner, with no fear of cracks ...

acoustic insulation
MADEX10

acoustic insulation
ECORUBBER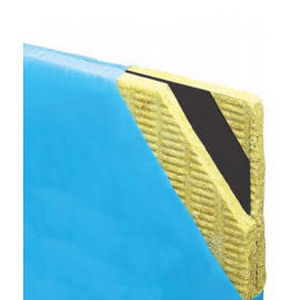 acoustic insulation
ACOUSTIC BAG
... of qualified technicians in the acoustic field, of great experience, able to carry on preliminary analysis, feasible highly specific projects in the field of soundproofing. We are able to develop a detailed acoustic ...


... flame retardant panel and a flameproof polyester insulation. The panel's surface coating is a fire-resistant paint that complies with European fire reaction class B1. The ecological polyester insulation ...

Hemp Fibre Panel Insulating hemp fibre panels are ideal not only for insulation of roofs, walls and floors, but also for medium-frequency sound absorption. This type of heat insulating ...

sound insulation
BIOFIB : OUATE
Biofib ouate is an insulation composed of natural hemp and recycled cellulose fibres, all specially suited to thermal and acoustic insulation of residential and commercial ...

acoustic insulation
BIOFIBAT : CHÈNEVOTTE
Biofibat is a granulate consisting solely of fibrous cellulose calibrated and dusted after the pulping of hemp straw. The conversion process requires no water or solvent.

acoustic insulation
T-BOARD
T-BOARD is a sound absorbing panel developed with environmental friendliness in mind.

acoustic insulation
T-MAX DOUBLE
T-MAX DOUBLE has thermal bonded two layer structure, denser and hard surface and soft core. Density(kg/㎥): 40, 45, 48, 60, 80 Thickness: 25mm, 50mm Size: Max. 1,220mm x 2,440mm Color Core: White, Grey Surface: ...

acoustic insulation
APPLIANCES : ECOWOOL BOARD
... for fire safety, thermal and acoustical insulation for appliances such as major appliances such as ranges, ovens, water heaters, washers, dryers, dishwashers and refrigerators delivering ...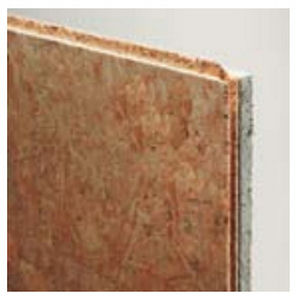 acoustic insulation
34OSB

acoustic insulation
ITALCOPPO
Panel with polyurethane insulation Average thicknesses (mm): 53-68 External Supports: Steel, Aluminium, Copper Internal Supports: Double Sheet Version: Steel, Imitation Steel Wood Mono Sheet Version: Fiberglass (G.R.P.), Centesimal ...

acoustic insulation
PENTA W. FLAGON
Panel with 5 ribs double sheets Flat coating made in weatherproofing synthetic PVC or Polyolefin membrane Thicknesses (mm): 50-80-100-120-150-200

... suitable for use to create floating floors with single-layer screeds. Using it, it is possible to insulate intermediate floors both thermally and acoustically with a single product, so as to comply with ...
See the other products
TECNASFALTI (ISOLMANT)

acoustic insulation
PERFETTO PM
... IsolFIBTEC PFT (recycled fibre technical fabric with a density increasing through its thickness, with high sound- and heat-insulation properties) coupled with high mechanical strength, highly vapour resistant, transparent ...
See the other products
TECNASFALTI (ISOLMANT)

sound insulation
ELITE SYSTEM 4A & 5A
Our use of mineral insulation materials results in an excellent sound reduction performance for all the ELITE systems. Even the basic ELITE4.25 system achieves a weighted reduction sRI of 43dB, a massive ...

acoustic insulation
GOLDFLEX GFS
... industry as a thermal or acoustic insulation. It is suitable for insulating ceilings and walls. Polyethylene foils of the thickness of 5, 8, 10 and 15 mm are applied ...

acoustic insulation
GOLDFLEX
... under laminated floor elements (panels) as well as layer floor elements (boards glued in layers) in order to increase acoustic insulation of ceilings against impact noises and smoothen small rough areas ...