How to choose this product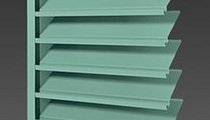 An air grating is a panel with openings permitting air to enter or be extracted from a room. It can be installed in an exterior wall for natural or forced-air ventilation, or be part of dual-flow forced-air ductwork. Extraction is via natural or forced-air ventilation. ArchiExpo offers a wide selection of grates in aluminum, steel, stainless steel, polymers and other materials.
Applications
These fittings are found in residential, office and other types of building.
Technologies
There are different grill adjustment systems adapted to a variety of building occupant needs. Various models operate in response to humidity, via electric controls or another system. Features may include movable louvers, a diffusing element and an adjustment lever.