How to choose this product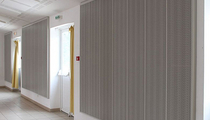 An aluminum panel may be used for flooring, acoustic control, roof covering or even as a windbreak. It offers a high strength-to-weight ration, corrosion resistance and is recyclable. Among the different forms are perforated, undulating and flat panels. On ArchiExpo, these items are arranged by properties such as form or intended use.
Applications
These panels are found in both domestic and commercial environments. Uses include acoustic insulation, perforated floor panels and gratings, ceiling and corrugated roof panels.
How to choose
Panel characteristics should suit intended use. For example, the acoustic insulation properties and proportion of solid to perforated surface in a ceiling panel may be regulated. Floor panels may have to comply with local codes concerning load-bearing capacity, fire and impact resistance and non-slip finishes. Determine sturdiness and the ease of maintenance, repair and replacement.