How to choose this product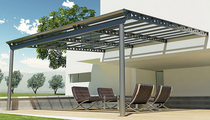 An aluminum pergola is a terrace shelter with a metal framework. The cover, which protects from the sun and/or the rain, can be of fabric, glass, polycarbonate or aluminum.
Applications
These structures may be freestanding or partially supported by a house or other building adjacent to the terrace. They are found at private dwellings or sheltering restaurant, hotel or other public terraces.
Technologies
Aluminum is widely used for exterior structural components. It is light, yet sturdy, resists corrosion and requires little maintenance. It is also easy to work and can be recycled.
How to choose
Choice will depend on the size of the area to be sheltered, intended use and cover type. Micro-perforated fabric is a good choice when only shade is required. A solid, transparent cover (e.g., polycarbonate) offers shelter from the rain, but also allows the sun illuminate the terrace. The cover may be removable or retractable. It can also consist of adjustable slats for greater flexibility.
Advantages
- Light
- Resists corrosion
- Easy to maintain