How to choose this product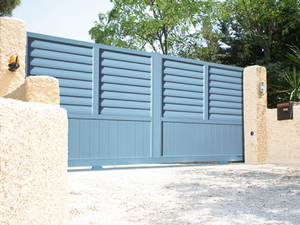 An aluminum gate may be pivoting, sliding, manual or automatic, and is often used for driveways and entrances. Its lightness, robustness, wide range of forms and finishes as well as its corrosion resistance confer advantages not found in steel, wood or some other materials. Some are coated to improve weather resistance and appearance. On ArchiExpo, these gates are arranged by properties such as style or type.
How to choose
Ensure that there is enough space for the gate to open fully, be it sliding or pivoting. Consider the needed degree of visibility through the gate and how the style fits in with the surroundings and other fixtures. Verify that visual and technical aspects comply with building codes. Choose manual or electric operation and determine maintenance requirements.
Advantages
- Light
- Durable
- Corrosion-resistant