The Online Architecture and Design Exhibition

contemporary armchair
TRUMAN by Joe Ricchio & Matt Duncan
More than ever people are coming together to work - in many different places and in different ways. Trumans' highly configurable collection reflects the way people exchange information and ideas in a workplace that is no longer defined ...

Scandinavian design armchair
BUTTERFLY LOUNGE by Niels Gammelgaard
The Butterfly series, designed by Niels Gammelgaard, is very successful. The new member, Butterfly Lounge Swivel, is also rooted in the Nordic design tradition with laminated wooden shell in Scandinavian wood: oak, beech and maple as ...

contemporary armchair
AMERICA
The designer Marc Sadler creates a retro armchair, inspired by the American Swinging '50s, with their unique and progressive style. America is an elegant seat, a perfect mix between contemporary materials and vintage ...
See the other products
SLIDE

contemporary armchair
DECEMBER : IC.T.075.01 by John Hutton
feet beechwood stained mahogany 10% gloss FM beechwood stained walnut 10% gloss FA beechwood stained wenge 10% gloss FW black lacquered ref. Ral 9017 10% gloss LN sample beechwood FC upholstery com fabric TC com leather PC fabric cat. ...

contemporary armchair
MYPLACE by Michael Geldmacher
Myplace is a new concept in the seating world. In an original twist, the seats – which come both with and without armrests – can also be used as headrests that envelop the head to varying degrees. These options and the choice of three ...
See the other products
La Cividina

contemporary lounge chair
BELLE by Tom McHugh
Belle lounge chair is an adaptable chair, suitable for both formal and informal environments. The molded plywood shell of the chair's back and sides seems to peel away like petals at their intersections, and both arms ...
See the other products
Keilhauer

contemporary armchair
C.R. by Wolfgang C.R. Mezger
C.R. Lounge displays an unexpected mixture of crisp lines and soft, comfortable seating. The clean angles and gently curved arms give C.R. Lounge a fresh look with a large, inviting seat. Coordinating side tables come in a variety of ...
See the other products
DAVIS

contemporary armchair
CHARME
See the other products
GRASSOLER

contemporary armchair
ZOOT
... through twin-stitching, make this chair a contemporary classic. Suited to any contemporary workspace, Zoot is available as an armchair or sofa on polished aluminium legs. Fully upholstered in any fabric or leather CMHR ...
See the other products
Zoeftig

contemporary armchair
SELECT LARGO XL by Harri Korhonen
A large easy chair with neckrest for entrance halls and hotel rooms. Swivel as an option. Sitting position relaxed. Leg chromed or epoxy coated. Width: 710 mm Total height: 990 mm Seat height: 420 mm Depth: 910 mm Height of armrest: 570 mm
See the other products
inno

contemporary armchair
OM TEXTIL by Martín Azúa
OM textile is the upholstered version of the Om basic armchair, a version designed to provide all kinds of spaces with greater comfort and personality thanks to its soft but hardwearing foam upholstery. It's still extremely ...

contemporary armchair
TETRA™
With generous proportions, this single-seater TETRA™ Armchair comfortably accommodates one person. It can also be easily configured with the lounge and ottoman models in the TETRA™ range to create both stand-alone and ...
See the other products
botton & gardiner urban furniture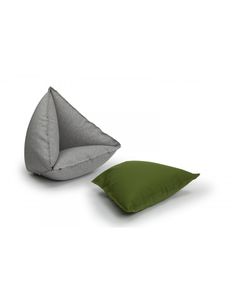 contemporary bean bag
DOREMI by Kaisa Hirvaskoski-Leinonen, Mikko Nissilä & Elin
... on imaginative, ecological and Northern themes. It fits in beautifully with a broad range of lifestyles and interiors from public spaces to small, intimate rooms. DOREMI consists of one, two or three trapezium-shaped ...
See the other products
Vivero

contemporary lounge chair
ARVO by Thomas Albrecht
... line is a full seating solution for healthcare. Arvo lounge is a high quality solution for healthcare environments. As a lounge chair or as a two seater, it is ideal for waiting and reception areas and other areas of ...
See the other products
DIETIKER

contemporary armchair
CLIPSE by David Ritch & Mark Saffell
Clipse shines on with an appealing offering of lounge, love seat and sofa options that surpass expectations. Subtle details, including a tapered back, gently sloping arms and carefully positioned tailoring, weave their way throughout ...

contemporary armchair
NAXOS ELITE
Classical harmony, pure elegance, and absolute comfort are the essential elements of the Naxos line of seating. Mix and match the armchair, two- and three-seat sofas, and one- and two-seat poufs in any combination for ...

contemporary armchair
ONDA
Onda is a waiting sofa available in 1-seat or 2-seat version. The product, with padding, has a particular curved seatback as a design element. The base has 4 fixed rubber feet. "A Extra" Category:fabric composed by 60% cotton and 40% ...
See the other products
LT FORM2

contemporary armchair
MANTA by Piotr Kuchciński
The family of sofas and armchairs in specific shape inspired by origami toys. The collection has special elbow rest and the backrest in characteristic shape of trapezoid leaning outside, has a soft foam body based on ...
See the other products
NOTI

contemporary armchair
DIVINE RECLINE
dimensions90cm w x 80cm d x 70cm h35" w x 31" d x 28" hseat height50cm (20")descriptiontraditionally upholstered beech frame, double cone springscushions with pipinglegsupholstered unless specified otherwiseseat cushionfeather wrapped ...

contemporary armchair
TRI : J16CH-003 by Jitrin Jintaprecha
Materials Structure: Solid Wood Backrest: Ply wood stain Armrest: Woven PE Rattan Polypeel PE Rattan Color: White Wash & Antique Java Dimensions W87 D87 H80 (CM)
See the other products
Corner 43 Decor

contemporary armchair
FJOLA 7750
See the other products
Embru

contemporary armchair
GROOVE
... involved by the selected wood purist shell, tributing the mid - century period with the new century modernism. The Groove Armchair is upholstered in eco leather, with a wood structure, available in various types of ...
See the other products
Stabörd

contemporary armchair
SURPRISE! by Gaspar González
Description Beech wood frame with laminated beech-wood back-panel. The inner frame is made of solid beech and particle board, with elastic webbing and medium-density polyurethane foam.The seat can be upholstered in fabric or leather(optional)
See the other products
Concepta

contemporary armchair
KAPSUL

contemporary armchair
SENSATION B
The new Armchair obtained from "Sensation A" with a reduced size is created for home and public places. It's minimal and customizable. Sensation is not only a simple sofa, but a big seating destinated ...