How to choose this product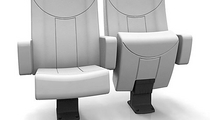 An auditorium armchair is designed for rooms accommodating large numbers of people, such as auditoriums, theaters or conference rooms. It may be cushioned or hard, fixed or mobile, modular, stackable or folding.
Applications
These chairs are often purchased in large numbers for installation in rows. Reclining, padded models enhance comfort for those who remain seated for long periods, as in theaters. In contrast, robustness, practicality and flexibility take priority in multipurpose venues. Some versions have built-in coat hooks, storage or other features.
How to choose
Determine the importance of comfort and appearance. Consider how the style will affect the ambiance and aesthetics of the space. Verify sturdiness and maintenance requirements. Wipe-clean synthetic upholstery is easier to maintain than cotton and other absorbent materials, which stain readily.

Chairs may be fixed or mobile, but should always offer adequate legroom between rows. Seats which fold up when not in use allow people to move about more freely. A storage rack beneath the seat is another option.