The Online Architecture and Design Exhibition

indoor door
EUROFLAM EI30 : F3015 - F3016
See the other products
HUET

indoor door
MAREA : ALTOPIANO by Giulio Cappellini
The MAREA sliding systems Altopiano and Marechiaro of LINVISIBILE are the first and exclusive external sliding systems, without a containment pocket, developed in collaboration with Giulio Cappellini. Two diverse products, each one ...

... utilises toughened glass as standard, with a top and bottom profile to support. The additional profile makes this arrangement more suitable for external application than the Besam Transparent. Arrangement All Besam ...
See the other products
ASSA ABLOY

entry door
BIRA KRYSTAL E71
The BIRA KRYSTAL E71 model combines the sealing requirement of traditional automatic revolving doors with a minimalist appearance, as the frame has been reduced to a minimum. This model is the perfect ...
See the other products
ERREKA

indoor door
REVER by Cini Boeri
Rever offers a door which can be opened in both directions combined with an automatic shutting system which allows the door to be closed without clamping and easily re-opening when necessary

... dimension of the doors.To ensure that profiles offer sufficient support and rigidity, they must be at least 45mm thick. APPEARANCE On the outside, door surfaces must be curved with a moulded and ...
See the other products
Sepalumic

... comprised of aluminium door jambs for glass doors to be inserted directly into plasterboard or masonry walls, complete with innovative patented hardware elements for the automatic ...
See the other products
Pucci Saoro

Geryon security revolving doors protect secure areas of a building against unauthorised access and offer a variety of options for different levels of security. They are equipped with sensors to monitor and analyse the ...
See the other products
KABA-SAFLOK

... materials for inner and outer parts of panels (heat cut) -armoured doors and windows -automatic entrance doors -winery and technical room door and window frames -internal ...

Electromechanical swing door drive for barrier-free interior doors, for example, in hospital wards and care institutes, in assisted housing, hotels and private home applications. Product features Automatic ...
See the other products
GEZE

Height: 2,091 mm
Width: 1,600 mm - 2,300 mm
Every leaf opens in the running direction. It is deal for hallways and busy passageways. Double Leaf Fire door and Double Opening Sense with EI2 60 classification. The 63mm thick leaf is constructed with two 0.8mm steel ...
See the other products
Andreu Barberá, S.L.

The slim sliding door with elegant appearance With their compact design and attractive, elegant appearance, the compactMaster in-line sliding door harmonises especially well with architecturally sophisticated ...
See the other products
Gretsch-Unitas

... gained during the last 50 years by Silvelox, leader in the production of wooden garage doors and security entrance doors, determines that the Silvelox "new" patio door is provided with ...

Whether it is summer or winter, automatic sliding doors offer climatic isolation and avoid drafts.
See the other products
VIDRES BERNI

Much more than just open and close, this port allows a wide range of use. It enables for instance, in hotels, with the same card key from the lock of the room can also open this. Use a large range of environments: - Airports - ...

indoor door
S-500 : LIFTAWAY
Steel Frame Counterweight balanced door system. Versatility of cladding, site lines, sizes, and much more Single panel design that lifts vertically to a designated height.

... We cooperate with the top companies in glass section and we stay updated with the newest technology necessary for glass staircases, railings, furniture, cabins, canopies, curtain walls and other custom systems.

entry door
PERSPECTIVE : LYRA
See the other products
K-Line

... comfort with the accumulator located in the door in electrical interruptions. INTERAX Automatic doors keep aesthetic and insulation at top level as well as it ensures easy change far ...
See the other products
CUHADAROGLU ALUMİNİUM

... aluminium sheeting along both sides Door panel Single or double pivot door Pivot can be integrated centrally into the door, out of the centre or near the edge Single or double glazing No ...
See the other products
AVC

The innovative door system Metaflex Intelligence provides a warning of what is going on behind the door when someone wants to access the OR. Automatic sliding door system Airtight/ ...
See the other products
Metaflex

... intelligent solutions for opening gates, sliding shutters and interior doors. Interior and exterior sliding doors, low-energy drives The "Automatic doors" product area ...
See the other products
Baier GmbH

... foil ENDURO, lock with patented insert intumescent seal MDF block frame 100x60 mm automatic door bottom seal 4 hinges with regulation in glazed doors – fire resistant ...
See the other products
Invado Sp. z o.o.

Sliding doors are particularly elegant in appearance and harmonises exceptionally well in to sophisticated facades.
See the other products
Usluga Glass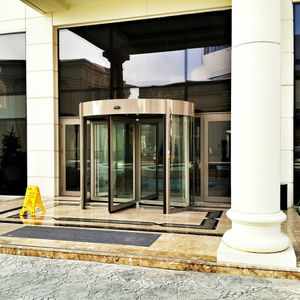 Automatic revolving doors include ones of most significant products, which effect prestige and use of an architectural structure in terms of esthetics and functionality. Difference between automatic ...
See the other products
Edora Automatic Door Systems