How to choose this product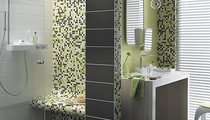 Bathroom tile is a floor and wall covering offering protection from moisture. It generally consists of thin, square units glued to the underlying surface in a checkerboard pattern.
Applications
The two types of tile, floor and wall, are differentiated by their thickness, shape and sturdiness.
Technologies
The individual tiles are made of ceramic, porcelain stoneware, terracotta, natural or engineered stone, concrete, glass, or another material. Different fabrication techniques result in surfaces that may be matte, glazed, relief, printed, hand-painted, etc. The finish can resemble marble, wood, metal, natural stone, etc.
How to choose
Choice will depend on aesthetic factors (form, color and texture), as well as practical considerations (sturdiness, safety and ease of maintenance).
Advantages
- Multiple options
- Easy to clean