How to choose this product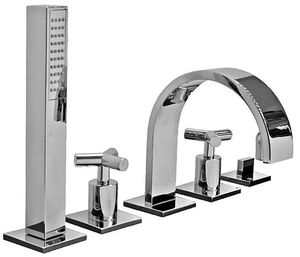 A double-handle bathtub mixer allows the flow of hot and cold water to be controlled separately as they flow from the same tap. This also provides temperature selection. It may be wall-mounted or fixed directly to the bathtub. On ArchiExpo, these fixtures are arranged by properties including number of mounting holes or finish.
Applications
Such taps may be designed for domestic or commercial bathrooms, as in hotels. It may have extra features such as a shower head or a thermostat.
Technologies
Porcelain, wood, chrome and other finishes are available.
How to choose
Consider the importance of installation configuration, an added shower head and other features in light of intended use. Wall or bathtub mount, style should be appropriate for bathroom decor. Ornate designs may work well in period style bathrooms, while streamlined geometric taps are better suited to minimalist and contemporary settings. Determine ease of use, the strength and type of water flow and how much maintenance is required.