The Online Architecture and Design Exhibition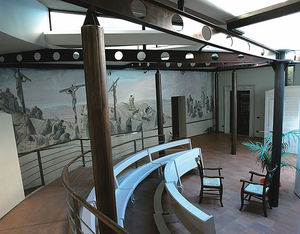 Beams made of wax-polished corten distributed in a radial arrangement create a single element with the circular structure of the benches. The steel core columns are covered with oak.

Span: 245 cm - 590 cm
Width: 8 cm
Height: 20 cm
The timber formwork H20 beams are used to reinforce walls and floors and their usage is undergoing a massive increase. Available in various lenghts, the standard ones are: 2.9X3.9 m and 4.9X5.9m. Carefully dried timber Surface ...

Glued laminated beams are distinguished by their load bearing qualities, their electromechanical characteristics and their light weight. The cross sections of the beams do not increase as reinforced concrete ...

This type of work has always been complementary to our main activity. Even so, every year we continue to offer this service to all our customers who want a single professional to deal with their "turnkey" carpentry project. Our structures ...

glue-laminated wood beam
GLULAM
Span: 12,000 mm
Width: 100 mm - 240 mm
... and USA for over 100 years, is now offered to you by Novawood. Make grand impressions in grand spaces with Laminated Wood Beams. Magical warmth of wood comes together with its surprising load-carrying capacity in Laminated ...

Span: 3,000, 1,000 mm
... duty eaves beam with bolster design is: Manufactured from aluminium with weather-resistant PVC-U claddings, available in a range of colours. Designed for flexibility of use and ease of installation,available ...