How to choose this product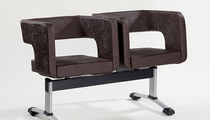 A beam chair is a seat or number of seats which are supported by a horizontal bar or beam. The beam itself may constitute the seat. On ArchiExpo, this furniture is arranged by properties such as style or special features (e.g., folding).
Applications
These chairs are particularly common in public seating. Many models have individual seats attached to the beam. This defines the number of intended users and prevents them from occupying too much space. The unit may be fixed to the floor or mobile. Some are upholstered for added comfort or include integrated tables, planters or other features. There are both indoor and outdoor versions.
Technologies
Common construction materials for the supporting frame include stainless steel, aluminum and wood. The seats are often of plastic and wood.
How to choose
Consider the number of people to be seated and ensure that the unit does not hinder movement around the room. Comfort is a more important factor in a waiting room than at a bus stop. Determine sturdiness and the possible need for special coatings such as protection against misuse, staining, vandalism or harsh weather.

Style, color and finish can be chosen to complement or contrast with the surrounding decor. While neutral colors help the beam chair blend in, bright colors tend to draw attention to it.