The Online Architecture and Design Exhibition

contemporary coffee table
... rectilinear Firetable for a modern setting. If you're looking for a modern concrete fire pit that is sturdy, functional and at coffee table height, our firetable fits the bill. The simple, smooth concrete ...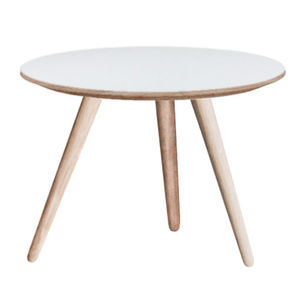 contemporary coffee table
STICK
Height: 40, 44 cm
Length: 60, 90 cm
Width: 60, 90 cm
... triangular or circular. Coffee Table with three tapered solid wood legs. Table top is round with a wooden edge. Available in two different table height. TECHNICAL ...

traditional coffee table
MONTE NAPOLEONE
The occasional furniture also offers the highest quality, even better if combined with art deco, a timeless style, creating endless Luxury.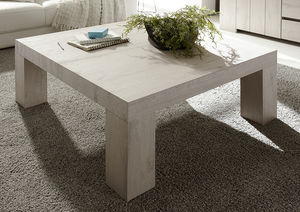 contemporary coffee table
PALMIRA
Dining room in KD, available in beige oak Cleaf finish, soft-closing system, slatted fronts.
See the other products
LC spa

contemporary coffee table
EIVISSA
Height: 45 cm
Length: 50, 60, 70, 80 cm
Width: 50, 60, 70, 80, 55 cm
Table made of galvanized steel, polyester powder coated. Suitable for outdoor, indoor, and contract use.
See the other products
iSi Contract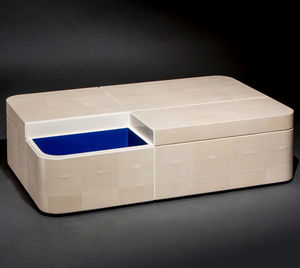 contemporary coffee table
FLIP FLOP by Elliott Barnes
Height: 13 in
Length: 43 in
Width: 27.6 in
DESCRIPTION Coffee table in stained oak with one removable flip flop corner. Stains available : natural, brown, wenge, black, grey and pin oak

contemporary coffee table
SCRIGNO
Display your treasures but keep them safe in this coffee table with laquer finish, glass and shaded mirrors. Its hidden compartment allows to ornate the center with a piece of art, a book or a memory ...

classic coffee table
BETTY

contemporary coffee table
CONIC DUST
Height: 40 cm
Length: 90 cm
Width: 90 cm
Color : BEIGE SILVER , BLACK FULLAMINATED GUN , BROWN SILVER Mirror Option : MIRROR SMOKE Dimensions (IN) : H16 Ø36/34 , H18 Ø24/22 , H24 Ø18/14 Dimensions (CM) : H40 Ø90/85 , H45 Ø60/55 , H60 Ø45/35
See the other products
Estetik Decor

organic design coffee table
CRUX
Height: 12 in
Length: 62 in
Width: 28 in
Crux Coffee Table is a stylish futuristic sculptural art table with a dynamic form designed and manufactured by Amorph. Crux consists of two pieces that join together to create elegant ...

contemporary coffee table
ENCORE by David Gutgsell
... Lounge is available in a multitude of seating and bench shapes and sizes that can be configured with linking or freestanding tables. Select from a variety of arm and leg styles, tablet option and power for all your needs.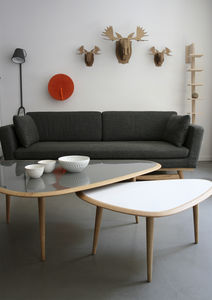 Scandinavian design coffee table
FIFTIES : LARGE
Height: 40 cm
Length: 85 cm
Width: 53 cm
The Red Edition coffee tables are handmade. Each layer of lacquer requires an extraordinary attention to detail and craftsmanship in order to get such a beautiful depth of colour. Available in 2 sizes, ...

original design coffee table
REVERSED PROCESS TABLE : UNIQUE
Height: 47 cm
Length: 65 cm
Width: 60 cm
wood, polystyrene-foam, papier mâché, resin, lacquer 60 x 65 x 47 cm unique
See the other products
Philipp Aduatz

contemporary coffee table
SIT'ALOT by Paulo Costa
Height: 45 cm
Length: 100 cm
Width: 60 cm
... of modern life! With the unique features of the SIT'ABIT it displays a table top area great for a tea table or to support the children's activities or, if you like, as a sushi table, ...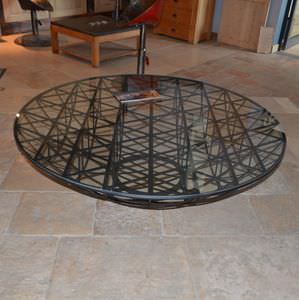 contemporary coffee table
Architectural salvage stone window surrounds, pediments, dormer windows, lintels . antique garden & landscape features. BCA supply authenticity to projects across France, Europe and worldwide.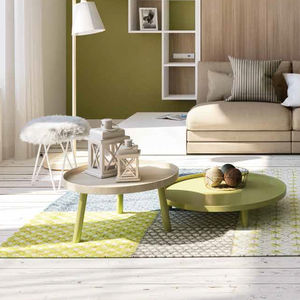 contemporary coffee table
ON-OFF
Choose the environment that resembles you the most World-class citizens, curious, adventurous, romantic, eccentric, but with one scope: to live following a style with no boundaries. It is diminishing to define your home a house: it is ...