How to choose this product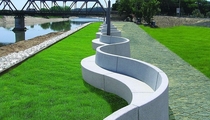 A bench with a backrest offers its users back support. A central backrest separates two seats facing in opposite directions. If it runs along one side of the bench, users must facing in a particular direction. The backrest may be padded or hard. On ArchiExpo, these items are categorized by such properties as style, material or area of use (e.g., public spaces).
Applications
These benches often face an attractive view, thought they are also used for seating in waiting areas or even in the home. Design versions may invite the user to sit in unusual ways. They may even include integrated lighting, planters or tabletops.

Outdoor models intended for public spaces are designed to be robust, resistant to abuse and are usually fixed. For indoor applications, comfortable, lighter more mobile designs are often preferred.
Technologies
Popular construction materials include solid wood, particle board, plastic, stainless steel, stone and concrete.
How to choose
Consider the relative importance of form versus function. It could be sculptural or simply a functional piece of furniture. Number of simultaneous users, time of use and possible need for abuse and/or weather resistance are also important.

A park bench, for example, may need to be stationary, weather and vandal resistant. In a hotel, style and comfort are usually as important as robustness. For example, a bench in a hotel lounge may be upholstered for improved comfort and appearance.