How to choose this product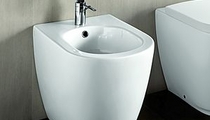 The bidet is generally an oblong bowl for intimate bodily hygiene, though some are rectangular, round, etc. It is fed by a single-unit or mixing faucet. ArchiExpo displays bidets by shape and material.
Applications
The bidet is usually found in home and hospital bathrooms.
Technologies
Bidets differ by mounting system, each with appropriate plumbing. Floor models must abut a wall or partition (e.g., a shower enclosure). Hanging models free floor space, facilitate cleaning and can be placed at a height suitable for their users. They can be made of such materials as vitreous china, enameled stoneware, stainless steel and synthetics.
How to choose
Choice is based on aesthetics and available space.
Advantages
- Improved hygiene
- Practical for seniors and the handicapped
Disadvantages
- Expensive