How to choose this product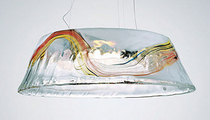 A blown glass lamp can have many different colors and shapes. Irregular, hand-blown forms offer originality, while machine-blown glass has a uniform finish and resists fading and staining better than acrylic and other transparent materials. On ArchiExpo, such items are categorized by style, type of fastening or type of glass.
Applications
Models include floor, tabletop, suspended and wall-mounted. The lamp may provide general, task or ambiance lighting, such as to create an intimate atmosphere in a restaurant. A suspended blown-glass ceiling light can make great centerpiece. It is less likely to get broken as it is usually out of reach.
Technologies
Machine-blown glass is produced by injecting compressed air into a mold. Handmade glass is made by an artisan blowing through a blow tube. Metals, pigments or even woven materials can be included to create unique finishes.
How to choose
Determine whether the lamp is appropriate for its intended use, whether used as a centerpiece or to create a particular ambiance. Suspended versions may constitute an attractive focal point, while remaining out of harm's way.

Finish can be uniform or artisanal. Hand-blown wares tend to be more expensive than those made by machine, but offer originality and interesting light qualities. Verify that the wall or ceiling can support the weight of the fixture. Another factor is ease of maintenance.