How to choose this product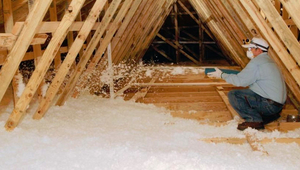 Thermal insulation includes a variety of systems designed to limit the flow of heat between two areas of differing temperature. Its primary function in a building is to prevent the loss of interior heat. Blown insulation is one of the best ways to limit such heat transfer.
Applications
The primary advantage of blown insulation is its ability to flow into cavities between ceiling and false ceiling, into a variety of gaps and spaces where the insertion of panel or roll material would be impossible.
Technologies
The most widely used types of blown insulation are those made from polyurethane and polystyrene foam. They offer low density and excellent thermal insulation. Blown insulation is more difficult to handle than it might seem because of its tendency to expand. The time required for its installation and the conditions in which it is used can complicate the task for those lacking experience.