The Online Architecture and Design Exhibition

pellet boiler
IDROBOX EVO
High-power boiler housed in a compact design. Efficiency of 90% and low fuel consumption of 0,7-3,7 kg/h. POWER UNDER FULL CONTROL MODERN, ECOLOGICAL PELLET HEATING Pellet stoves are one of the most innovative ...

... takes place maintains a preselected temperature for the boiler to operate too. Inside this boiler is a triple pass vertical heat exchanger which provides excellent heat transfer, resulting in high boiler ...
See the other products
CTC Enertech Group

KEEP YOU DHW CYLINDER AND TURN IT INTO AN EFFICIENT SOLAR SYSTEM HOT WATER DAY & NIGHT, HAIL, RAIN, WIND OR SHINE

... variable speed boiler pump control which is standard equipmpent on all MagnaTherm hydronic boilers. The VARI-PRIME™ system optimizes the three major variables of hydronic boiler operation ...
See the other products
Laars

... effortless installation. 100% efficient Our boilers waste no energy. Producing no combustion or GHG emissions, the mini electric boiler is a highly energy-efficient and green alternative. Maintenance ...
See the other products
Thermo 2000 Inc.

Type Marine three-ways smoke boiler with water production for heating; Boiler shell in steel at 3 bar pressure; Doors for internal inspections and boiler cleaning; Cast iron burner with ...
See the other products
D'ALESSANDRO TERMOMECCANICA S.R.L.

electric boiler
ENVIROMAX™ KITCHEN
High quality finish ensures that this boiler wont look out of place in your kitchen. Features: Compact design - fits under standard kitchen worktop (outputs up to 35kW). Hard wearing casings with premium quality finish. Patented ...
See the other products
Firebird Heating Solutions

Pellet boilers TANGRA HP30 are intended for heating and hot water supply of single-families houses, small residential and office buildings and auto repair shops. During the design process of pellet boilers ...
See the other products
TANGRA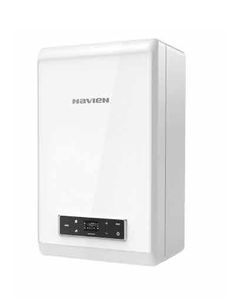 ... possible, allowing flexible installation options An optional outdoor weather sensor (known as compensation sensor) enables the boiler to run in condensing mode Quick DHW supply function provides ideal solution for inconvenient ...
See the other products
KD Navien

... concrete Build in exhauster Side walls from 6mm steel Protection from heating system overheating Easy and comfortable control of boiler Touch screen control panel Simple set up of operating modes Controller is able to ...
See the other products
Kalvis JSC

A front-mounted LCD display provides settings, status, and error messages, and all models include a built-in sequencer for staging control of up to eight Brute™ units. Top-mounted piping & vent connections, with 100-foot PVC vent & intake ...

... large content of boiler water with 142 liters, which can provide a large amount of heating energy. With the integrated reservoir for pellet on the top of the boiler, of capacity up to 200 kg, boiler ...
See the other products
BIODOM 27 d.o.o.

The Boiler from series Biopel line is automatic pellet boiler that is designed for convenient, economical and ecological heating of family houses and medium-sized objects. These boilers ...
See the other products
OPOP spol. s r. o.

pellet boiler
HYDRO: INTEGRA 28
Completely steel covered Automatic grate cleaning system Stainless steel burner Ash compactor Touch screen display No touch system: minimal maintenance

Three Pass Firebox Design. Thickest boiler steel in the industry. Efficient and flexible - gas, oil, heavy oil, and combination gas/oil. Available with LOW NOx configuration. Capacities From 8.5 to 813 HP 285 to 27,215 ...
See the other products
Hurst Boiler & Welding Co., Inc.

gas boiler
LUNA PLATINUM: 24KW - 33KW
... regulation knob, menu selection buttons and back-lighting; supplied with the boiler Wide modulation ratio up to 1÷10: better efficiency thanks to reduced switch-on/switch-off of the boiler Gas Adaptive ...
See the other products
BAXI

Showcasing unique boiler innovation, the Vogue utilises modern technology with premium parts and components to bring you the next step in domestic heating intelligence. The complete design from component specification, ...
See the other products
Ideal Group

pellet boiler
PELLETTOP 15
Output 4.5 - 14.9 kW Slim design W x H x D: 555 x 1430 x 1085 mm Also suitable for operation as a room-sealed appliance Also available with manual filling Areas of application: New and renovated buildings Single-family homes Weekend houses
See the other products
SOLARFOCUS

Firebox capable of handling 18 long woodCommon Household Sounds Heats up to 1400 sq ft Extremely low emissions at 3.6 g/h 2.0 cubic foot firebox capacity Average output of 40,000 BTU/hr Optional 10kW Electrical Furnace Modules Can be ...
See the other products
Napoleon Fireplaces (Wolf Steel Ltd.)

7 year warranty† Easy to see pressure gauge Large backlit display with user friendly controls Low lift weight Low component count, maximising reliability Compact dimensions Twin flue up to 27m** 50mm muPVC (PVC-C) solvent weld ...
See the other products
Keston Boilers

gas boiler
PROCON 16 – 75
... adaptation to all types of heating requirements. The ProCon 27 S combination boiler modulates between 6.3 and 24.2 kW, with a delivery rate of 15 l/ min. The ProCon 47 S combination boiler modulates ...
See the other products
MHG Heating

Navien NCB is the first high efficiency tankless condensing combination boiler with the capacity to supply both heat and domestic hot water for larger homes enough hydronic heat for a whole house, plus hot water to run ...
See the other products
Navien America, Inc.

gas boiler
BENCHMARK 750 & 1000
AERCO is expanding its Benchmark series of high-efficiency boilers to include the BMK 750 & 1000. The expanded BMK SERIES (BMK 750 & 1000) delivers the highest burner turndown in the industry to achieve the highest seasonal ...
See the other products
AERCO International, Inc.

We introduced the first oil-burning gun furnace more than 50 years ago. Today, our oil furnaces continue to be one of the most installed oil furnaces in manufactured homes because of features such as: Specifications High-efficiency ...
See the other products
Miller, Division of NORDYNE International

Simply stated, we consider the AMVM96 modulating gas furnace to be our best. This gas furnace has an AFUE rating of up to 96%, which means that up to 96 cents of every $1.00 of heating energy expense warms your home. If the heat exchanger ...
See the other products
Amana