How to choose this product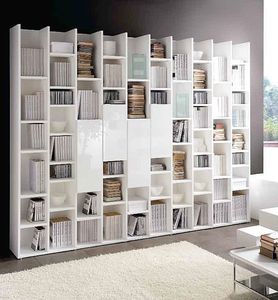 ArchiExpo organizes bookcases by style (traditional, classic, modern, contemporary and design) and by material and finish (wood, aluminum, leather, glass, concrete).
Applications
Bookcases can be designed for home or professional environments. Functional models have shelving and compartments that optimize book and document organization. Decorative versions use various color schemes and lighting arrangements, and may juxtapose filled and empty spaces. They can be set against a wall, or be used as room partitions.
Technologies
Solid wood, plywood, laminated wood, glass, concrete, metal and other materials are used to build such furniture. Shelves mounted on tracks is modular, offering great flexibility, including adjustable height. Configurations and features are numerous. Some incline, while others are magnetic, mounted on wheels or feature built-in lighting.
How to choose
Consider the number of books and documents to be stored, their weight and size, the possibility of disassembling the unit, its modularity and, of course, the available space. Let your imagination run free and play with colors, light arrangements and empty areas.
Advantages
- Optimizes storage