The Online Architecture and Design Exhibition

We are the specialists in design, fabrication and installation of unique balustrades made of stainless and normal steel.

facade architectural glass
CONGRESS HALL, TASCHKENT-USBEKISTAN
Finish: Quantity:18 to brass plates mirror polished750 m brass round tubes MS 58 mirror polishedCa. 500 sqm stainless steel.4301 mirror polished no.8

facade glass panel
ROCHE DIAGNOSTICS INTERNATIONAL AG by Burckhardt + Partner
... highly efficient CCF-façade (Closed Cavity Façade), a major contribution to the building's sophisticated, sustainable energy concept. The building is approx. 68 m (223 ft) high with ...
See the other products
Josef Gartner

laminated architectural glass
TOTTENHAM COURT ROAD STATION, UK
... are glass fins, which are combined with a newly developed technique involving titanium components laminated into the glass for even greater transparency. In addition, seele has once again pushed back ...
See the other products
Seeele

laminated glass panel
TINTED
TINTED FLOAT glass is a colored float glass, made by adding metals to achieve different tones of colors, meeting the aesthetics needs of the individuals Features High degree of energy absorption thereby ...
See the other products
Clear glass

partition wall glass panel
CHINCHILLA
See the other products
Invado Sp. z o.o.


double-glazed glass panel
... çade – thus becoming the subject, which defines the functionality of a building's exterior cladding. Reflex insulating glass is composed of two glass elements spaced ...
See the other products
REFLEX

double-glazed glass panel
VETROTHERM
... insulation glass panes are real high-tech products and skilfully meet both requirements: With a specific precious-metal coating and special inert-gas fillings, they minimise the loss of thermal heat by outwards radiation. ...
See the other products
FLACHGLAS Wernberg

partition wall glass panel
See the other products
Kowalski SA

patterned glass panel
CLASSIC-CRAFT®
... designs that showcase and bring life to your entryway. Classic-Craft glass is more than 10% wider,* welcoming more light into the home and creating a distinctive entryway. Fiberglass lite frames are ...
See the other products
THERMA-TRU DOORS

laminated glass panel
AV RAILING
... of establishing itself as a major supplier in the distribution of flat glass and sets of systems essential for the assembly of glass. From the laminated, tempered, insulating glass, ...

tempered glass panel
BETOGLASS®
... coloured glass and Hering architectural concrete, planners and architects can create a unique facade area, either as an all-glass building, i.e. no visible architectural concrete, or ...

acoustic glass panel
METALLIC
... exterior applications, featuring UV and moisture resistance with great acoustical ratings. Choose the best metallic architectural glass products with CARVART.
See the other products
CARVART

solar control glass panel
ECONTROL®
... for "smart buildings" Individual or automatic control, can be integrated into building control systems EControl wellness windows - the blue colour has a positive effect on performance The switchable solar ...

bulletproof architectural glass
SECURITY SYSTEMS
... rated doors and facades, burglary, bomb or bullet resistant facades. Glass combinations with different kinds of laminated glass provides a significant improvement over monolithic glass ...

laminated glass panel
STICKS
Sticks is a texture that is an abstract of closed grain wood stick stacked to create a three dimensional plane with altering layers of wood. Inspired by stick-built construction, this texture is individually handmade using casting on ...
See the other products
BermanGlass

curved glass panel
BORGHESE
... Today more and more buildings have glass facades from a sculptural aspect. Parallel to the growth in the use of glass in architecture, the material is enriched to meet the new requirements ...
See the other products
inglas vetri

... south. In order satisfy these requirements in wood as well, this special OPTIWIN facade system was developed. The OPTIWIN Glass Facade consists of a load bearing wood construction, which is covered with either wood or ...
See the other products
Freisinger Fensterbau

... provides a wide range of internal and external walls. We manufacture walls of profiles with or without a thermal barrier, and all-glass walls. Special connection pieces applied in walls allow any angle arrangement for ...

solar control glass panel
GEWE-CLEAN
... conventional glass surfaces. Application areas of GEWE-clean®: Showers, shower partitions, mirrors Glass furniture, glass counters, glass partition walls All-glass ...
See the other products
SCHOLL GLAS

double-glazed glass panel
450TB-CG
... insulating glass . Fabrication and installation ease make this system a leading choice for a wide variety of entrance, storefront and independent fixed window applications. Features: 2" x 4 1/2" ...

double-glazed glass panel
RIALTO
typoloy Insulating glass blind description The RIALTO glass blind consists of insulating glazing with a built-in 15 mm Venetian blind incorporated in a 22 mm cavity between the two panes. It can be ...

laminated glass panel
LAMI-P™
Glazing is a major component of all types of buildings. Glass combined with a plastic film means safety, and safety is vision. Lami-P™ is a glass composed of two ...
See the other products
P h o e n i c i a Flat Glass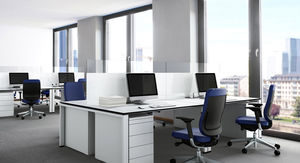 tempered glass panel
ARCHITECTS
... slender glass panels can be placed in almost any way you can imagine: on tables, sideboards, or even the floor, just like you can do with the textile panel system. However, the game ...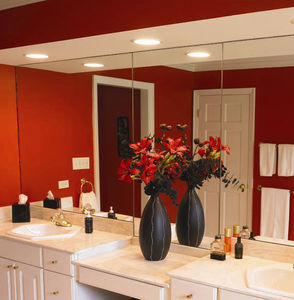 interior glass panel
SCARGARD®
... exclusively manufactured by Trulite Glass & Aluminum Solutions™. There is simply no better mirror product available in todays market! ScarGard Surface Protected Mirror is produced by applying a chemical to the surface ...
See the other products
ARCH Aluminum & Glass Co., Inc.