How to choose this product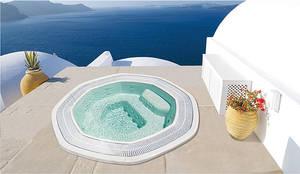 The built-in hot tub is a permanent unit. Once installed, it cannot be moved. It can be completely or partially set into the ground or placed on its surface. It must be connected to the water and electrical systems of the house or building.
Applications
These units can be installed indoors or out, as with other types. They are found in gyms and at spas, physical therapy centers and private homes.
Technologies
The shell can be prefabricated from synthetics, wood or metal, or custom-made, using concrete, wood or another material.
How to choose
Choice factors include:
- Budget (custom units cost more than prefab)
- Available space
- The number of persons it can hold
- Intended use, including massage and relaxation
- Material, such as concrete, mosaic or polyester
Advantages
- Adds value to the property
- Can be custom-made
Disadvantages
- Cannot be moved
- Difficult installation