How to choose this product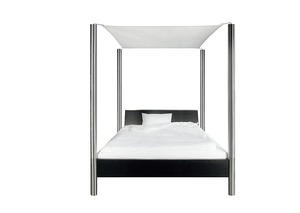 A canopy bed has legs that extend upward to form corner posts which hold drapery above it or enclosing the bed all around. ArchiExpo presents canopy beds according to style (traditional, contemporary, design, etc.) and by size or use (single, child's, garden, etc.).
Applications
The canopy bed constitutes the essential aesthetic feature of a bedroom. It is imposing, sometimes majestic. This type of bed is designed for spacious rooms. Its ceiling is supported by the bed's four corner posts and the framework resting on them. Such a bed constitutes a uniquely charming decorative element.
Technologies
Canopy beds can be of wood or wrought iron, either left in their natural state or painted.
How to choose
Solidity and aesthetic qualities are the primary criteria for choosing a canopy bed, which should be placed in a large, high-ceilinged room. Its curtains should blend well with the room's accessories for a stylistically unified appearance. Window treatments, lamps and other accessories should be of complementary color and style.
Advantages
- Elegant
- Creates a comfortable, intimate cocoon
Disadvantages
- Occupies significant space
- Requires upkeep