How to choose this product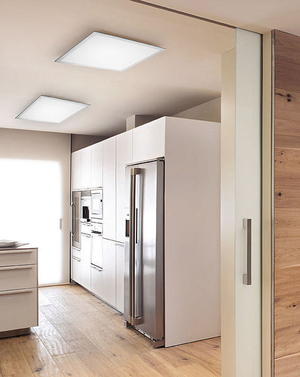 A ceiling lamp is a general lighting fixture attached flush to the ceiling rather than being suspended from it. Unlike a pendant lamp or chandelier, it is discreet, compact, sober and intended primarily for efficient illumination. Aesthetic variety includes traditional, period, design and contemporary styles.
Applications
These fixtures are found in living and dining rooms, kitchens, hallways and service areas, among other locations. Its efficiency makes it suitable as a unique light source, though it also may be complemented by additional illumination.
Technologies
Bulbs are usually incandescent or halogen, though LEDs and fluorescents are also possibilities. Some models are orientable spotlights.
How to choose
Choice will depend on lamp brightness, room size and the activities to be illuminated. Energy savings and low-consumption bulbs also should be considered.