The Online Architecture and Design Exhibition

... Mule-Hide #210 Plastic Cement has a heavy "trowel-grade" consistency which makes this product ideal for flashing details and a variety of waterproofing repairs, such as moving joints and roof penetrations. Mule-Hide #210 ...
See the other products
MULEHIDE

smoothing coating
ALCRET 130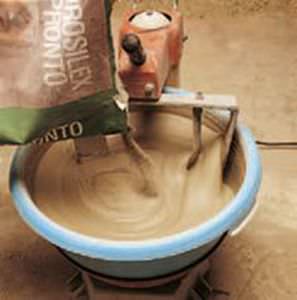 sealing coating
IDROSILEX PRONTO

finishing coating
BRICKFORM : MICRO-TOPPING
... Smooth Grade is applied over SM Professional Grade for a smooth finish when desired. The mixed materials form a thin concrete coating that can be used to restore or repair any concrete surface. Interior/Exterior ...
See the other products
Solomon Colors

sealing coating
SUPER OVALIE
See the other products
PRB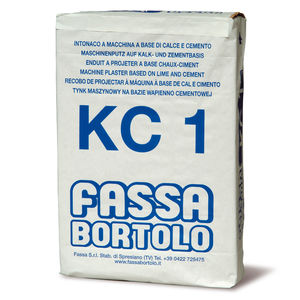 Lime and cement base coat plaster, for exteriors and interiors Use KC 1 is used as a foundation plaster on bricks, concrete blocks, rough concrete etc. For special underlays follow the instructions ...
See the other products
Fassa Bortolo

insulating coating
PLASTER 210
Heat Insulation System Plastering Mix is a cement-based and fibre-reinforced heat insulation sheet plastering mix specifically developed for BTMPlus XPS heat insulation sheets.
See the other products
BTM

... high performance and ready to use, it is white in colour, and Portland cement based, with selected aggregates and special additives. It is suitable for levelling out, reinforced cement ...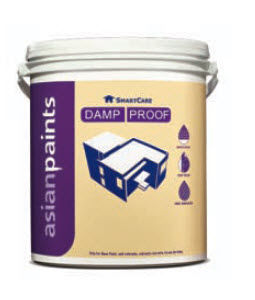 sealing coating
DAMP PROOF
... fiber reinforced elastomeric liquid applied water proofing membrane. It is formulated with select elastomeric and resilient acrylic polymers and reinforcing polyester fibers. Upon curing, it forms a thick, seamless, durable ...
See the other products
ASIAN PAINTS

sealing coating
ANTI-DAMP
Quick drying synthetic waterproof sealer. Based on pliolite resins with cement particles and waterproof features. Indoor or outdoor use. Dilutes and cleans with MINERAL Turpentine (D-16). 4 / 0,750 litres Finish: ...

Pool Deck Coating and Finishes by Elite Crete Systems aren't just beautiful, they are a necessity providing an anti-slip texture designed to reduce slip and fall accidents on wet surfaces. The best part is that these ...
See the other products
Elite Crete Systems

protective coating
MORTEX

smoothing coating
SKRAFFINO
Skraffino is a Portland cement based product that provides a grainer concrete surface that is applied at paper thin thickness. When combined with Cp1000, acrylic polymer it produces the ...
See the other products
Duraamen Engineered Products Inc.

sealing coating
SWISSLAB EWI
... Bedding Adhesive, used to adhere insulation slab (if required, Consult Alumasc Technical Services) Base Bead Powder coated galvanised steel or stainless steel beading Brickwork Substrate
See the other products
Alumasc Exterior Building Products

smoothing coating
MICROCEMENTO
MicroCement is a coloured cementitious coating of 1-2 mm thick. It may be installed over existing surfaces such as concrete, ceramics, marble, mosaics, tiles, steel, plaster, gypsum and wood. MicroCement is one of our ...
See the other products
EDFAN

filling coating
CONCREX™ FINE
... Concrex Fine Filler is extremely strong and economical to use - mix only what you need. Paint the finished repair with any coating or leave it as-is. Features and Benefits of Concrex™ Fine Filler - Repair Product: Ideal ...
See the other products
Watco Industrial Flooring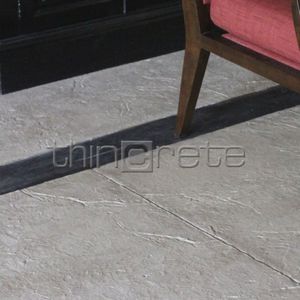 exterior coating
THINCRETE®
2-4mm coloured cementitious coating with texture imitating natural stone. Different textures can be achieved as Flagstone, granite, coquina, etc. It can be installed on floors, walls and stairsfor interior and exterior ...

decorative coating
SIBurbanwall
Un bi-composant à base de ciment. Applicable sur tout support (béton, bois, métal et plastique). Le béton est devenu un matériau, créateur d'espace de la décoration intérieure et se décline dans toutes les pièces, du salon à la salle ...

filling coating
ROC-ENDUIT
... blocks, concrete, cement render, breeze blocks, cellular concrete, brick, earthenware. PACKAGING Sacks of 5 and 20 kg on film-wrapped pallet. COVERING Once completely dry the filler may be covered with any type of paint, ...
See the other products
SEMIN

decorative coating
KRAKKLE
Time and surfaces tell the story of distant territories with an everyday feel. The wise warmness of nature flows through its elements giving them cohesion. Flexuous and fascinating images rise on a material peeled by the passing of time. ...

DESCRIPTION SEALING JOINTS BETWEEN PARAMETERSSealing and repair of all types of joints, both new construction and repairs.

decorative coating
BETON CIRE
Harmony Béton Waxed Concrete is a fine two-component mortar formulated from white or grey cement, selected aggregates and resins, which has been specially formulated to ensure a high degree of tensile strength and perfect ...
See the other products
Harmony béton

sealing coating
HYDROSTOP™ GROUT
Hydrostop Grout is a non-shrink waterproof grout that is used to repair surface cracks.
See the other products
Kryton International, Inc.

indoor coating
MICROCEMENT
MicroCement is a coating that can be applied to any hard surface such as walls, floors and furniture, both indoors and out. This cement and quartz based layer is at most 2mm thick. The ...
See the other products
Living Concrete Ltd

decorative coating
EUROPAS
iCOAT Flooring products are designed and formulated to exceed performance and results expectations of distributors, installers and end users. iCOAT Products have stood the test of time for nearly 20 years installing interior and exterior ...