How to choose this product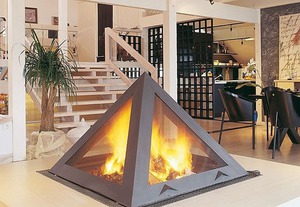 A central fireplace is installed in the middle of a home's main room, offering views of the fire from any vantage point. It can sit on the floor or be suspended from the ceiling. Depending on its design and location, it may be the room's most important decorative element.
Technologies
Fireplaces differ by the fuel they use. Wood is the most economical and environmentally sound fuel, and provides an unparalleled ambiance. Gas is more practical and offers higher heat output. Bioethanol fireplaces offer a wide range of modern, audacious designs, but inferior output. Electric fireplaces are less efficient but need no chimney.
How to choose
Choice will depend on fuel type and whether the firebox is open or closed. Wood and gas models require a flue or chimney.
Advantages
- Even heat output
- Attractive
- Variety of designs
Disadvantages
- Occupies central space
- Expensive