How to choose this product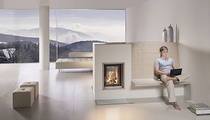 A ceramic stove is an enclosed heat source fueled by combustibles such as gas or wood. Some have extra features for cooking such as burners and/or a built-in oven. ArchiExpo arranges these items by type of fuel and style (e.g., contemporary).
Applications
A ceramic stove may be used in domestic situations for heating or cooking. It may also be used in hotels or other reception spaces to provide a comfortable radiant heat.
Technologies
The advantage of this stove is its thermal capacity; it radiates heat even after it is shut down. The system is enclosed and usually ventilated via a stove pipe. Certain models are double ventilated or catalytic to improve combustion efficiency.
How to choose
Consider stove installation mode and venting, and ensure that it is checked by a professional. Size should be appropriate for the space to be heated. Determine wood consumption and CO2 release rate, and combustion efficiency.

Style will depend on surrounding decor. These stoves can constitute a great focal point. Decide on fuel type storage needs. Some designs include shelves or drawers to hold pellets or logs. The stove may be used uniquely for heating or also for cooking.