How to choose this product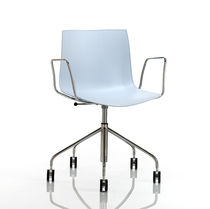 A chair with casters is a seat that is mounted on small wheels, allowing it to be easily moved. It can be padded or not, and is available in a range of materials and styles, such as plastic, steel, wood or rattan. Its main advantage is that wheels facilitate repositioning, even by a seated user, avoiding floor damage from dragging chairs.
Applications
Such chairs are often found in offices, conference rooms, hotels, restaurants and similar public venues where comfort and flexibility are important. The casters allow heavy upholstered chairs to be easily moved.
How to choose
Consider the chair's dimensions and configuration. Bulky models with high arms are poorly adapted for use at a table. Style, form and color should suit the environment. Verify that the model is suitable for its intended use. Office chairs may need to have an adjustable back and a mechanism for altering seat height.