Charles & Ray Eames
Designer info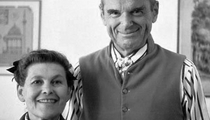 Charles Eames was born in St. Louis in 1907. He studied architecture at Washington University in the same city and opened his office there in 1930.

Along with Eero Saarinen, he won the New York Museum of Modern Art's Organic Furniture Competition in 1940. He also directed Michigan's Cranbrook Academy of Art design department. There, he met Ray Kaiser, whom he married in 1941.

Bernice Alexandra (Ray) Kaiser was born in Sacramento, California in 1912. She studied painting at the May Friend Bennet School in Millbrook, New York and then at the Hoffman School until 1937, when she moved to the Cranbrook Academy.

The couple developed wood molding and bending techniques, which gained them financial support from the U.S. Navy. During the Second World War they produced splints and stretchers. In 1946, Herman Miller brought them success by producing their first creations.

They entered the Low-cost Furniture competition sponsored by the New York Museum of Modern Art in 1948. The following year they exhibited their prefabricated house at Pacific Palisades (Los Angeles) as part of the Case Study Houses program. In 1956, Charles revolutionized lounge furniture with his Eames Lounge Chair. With six million produced, this was his greatest success.

In 1969, the couple participated in the "Qu'est-ce que le design?" (What is Design?) exposition of the Paris Musée des Arts Décoratifs. The MoMA put on a Furniture by Charles Eames exhibit in 1973. Charles died in 1978. Ray died 10 years later at the age of 76.
Major Works
1945 Eames DCW and LCW Chairs
1956 Eames Lounge Chair
1950 Eames DAR Armchair
1950 Eames DAW Armchair
1948 Eames DSR Chair
1945 Eames Plywood Elephant
Architectural Projects
1949 Eames House
1943 Eames Office, 901 Washington Blvd., Los Angeles
1949 Herman Miller Showroom
1968 IBM Pavilion
Authorized Manufacturers
Herman Miller, VITRA
6 companies | 99 architectural and design products
Filter by :
› New products

(7)

› Products with video

(3)
Refine the search
Charles & Ray Eames
Extend the search
Search by manufacturer
Search by catalog
Associated Terms
charles and ray, charles and, design charles and ray eames