How to choose this product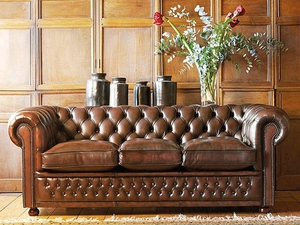 The chesterfield is a large, comfortable, luxurious sofa whose origins reach back to seventeenth-century Britain. The style includes a wide variety of models either entirely or partially button tufted.

Very popular in the Victorian period, it was one of the first sofas to be completely padded and to have armrests at the same height as the back. Several manufacturers continue to produce this type of furniture. On ArchiExpo, they are found among the classic sofas.
Applications
Synonym for luxury, the chesterfield is an English classic with a 200-year tradition. The prestige it lends a room can be enjoyed in homes, offices, hotel lobbies and a variety of upscale settings.
Technologies
Created by artisans, this furniture can be custom-made. While often large enough for three, good quality two-place models also can be found. It is characterized by button-tufted back and armrests.

Chesterfields are often covered in leather, usually from British and European workshops, though velour, linen, damask and other fabrics are also employed. There is a wide range of available colors and several different finishes. Traditionally, these pieces were stuffed with spun silk.
How to choose
Keep in mind that the outer covering of these sofas cannot be removed because of the manufacturing process and the large number of buttons. Chesterfields are usually bulkier than other sofas, making them particularly suitable for large rooms where they can serve as a focal point. They are equally at home in traditional and contemporary decors.