The Online Architecture and Design Exhibition

single bed
ARCADIA by Armando & Elena Ferriani
The most classical of children's bedroom design schemes, brought to life by a mood, colour and details carefully styled down to the tiniest detail
See the other products
Colombini

See the other products
paidi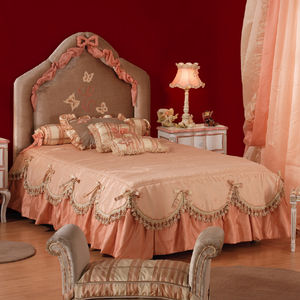 bed for mattress cm. 120x190 (available in other measures mattress and net on request)
See the other products
DANIELA LUCATO complementi d'arredo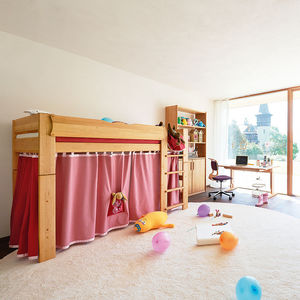 ... of this colour scheme, which features an abundance of pink shades, turning your child's bedroom into a cosy place of retreat. With loving details and accessories the bed becomes a place full of inspiration. ...
See the other products
TEAM 7

In 1979 this historical project by Bruno Munari was awarded the Compasso d'Oro. Multifunctional bed with pearl grey epoxy painted steel structure, designed to meet all the needs of young people. Abitacolo has two wire-net ...

See the other products
Nonjetable

bunk bed
AMBER IN THE SKY by Thomas Maitz
We recommend children under the age of 5 to sleep in the lower sleeping area only. Delivery time: 2 weeks, for non-stocked products we gladly arrange an individual delivery date with you. Material: birch plywood and Loden (100% wool) Packaging/Shipping: 3 ...
See the other products
Perludi

... for creating and transforming new spaces. Finishes in the photo / piacenza grey open-pore lacquer and matt lilac lacquer / bed in Olimpo 7/1 fabric.
See the other products
Tomasella Compas

Castello is a narrow bunk bed for kids bedroom sets. It comes into the classic solution with two stackable beds or in a more modern version combining a loft bed with one or two of the ...
See the other products
Clever

wall bed
ALTEA BOOK 90/120
Tilting bed with vertical opening system , available in two sizes, with a new and patented slatted bed base (CF09). This model is provided with two shelves and a storage for pillows behind the headboard, ...
See the other products
Clei

Frisian for: sparrow (Passeridae) dimensions: 159 x 75 x 100 cm (lxbxh) for mattress size 60 x 120 cm types of wood: available in oak, elm, maple or walnut details: the solid side panels are equipped with a 'hole pattern'
See the other products
Pilat & Pilat

Solid Ash bed frame with brass hardware details. Making use of simple woodworking techniques, the Simple Collection offers purity of material, form and function. Uncompromising in design and quality, the Simple Collection ...
See the other products
Kalon Studio

Moving from crib to single bed is an important step for children. That is why the Pomelo bed was designed to promote independence and help them to make that big jump with ease. Its sleek ...
See the other products
DUTAILIER

... creative compositions, suitable to the needs of all ages. Therefore, fantasy is let loose, beds above wardrobes, pull-in beds, wardrobes under the beds, doors and walls of bookcases ...
See the other products
TUMIDEI

Our children's beds are both sanctuary and refuge, a place to dream of adventures, somewhere to snuggle with loved ones, and to relax from the exciting days in a child's ...

single bed
BLOOMINGTON by Terry Dwan
... and give birth to this children's bed of the Bloomington collection. The bed is supplied, upon request, with cradle bumper and mattress made of anti-allergic fabrics. ...

single bed
TUCSON : 28547
Cambrass cots comply with UNE EN 716:1996/and 2 and are equipped with brakes on all four wheels. One of the sides can be raised and lowered for easier access to baby in the lowered position. ENE EN 1930:2000 compliant. ...

corner bunk bed
EVO 12 PONTI
Finishes: White Oak White Green Items: Bed Polar Handle T41-T42 Chair Pouf, Fabric 800 Green Terminal unit W. 300 mm internally equipped with shelves Corner unit internally equipped with hanging rods
See the other products
Mistral

single bed
TAKEOFF FOR DREAMLAND
... a safe cot to a regular bed is really a big deal. The Leander junior bed is placed between a crib and an adult bed in terms of size, which makes it ...


All day listening to music, this way is David. He locks himself in his room and does not remove his earphones. This is his intimate space, where he keeps all kinds of music, mainly in his computer; although he also collects CDs, some ...

extendable bed
GROW UP BLOCK
... integrated functions: - Cot 60x120cm, including height adjust- able slatted frame 60x120cm, side rail with 3 slip rungs - Winding station height 92cm, winding surface BxT: 86x75cm, 2 doors, 1 shelf, can be converted into: ...
See the other products
roba Baumann GmbH

Conversion into 90x190, fixed side, changing unit included, bedbase 2 positions ( bed base 90x190 and mattress not included). Optional bed drawer for the junior bed.
See the other products
Sauthon

Side bed, hinged-door wardrobe, Linea bedside table, desk with Palafitta legs and wall storage units. Alternative version with the Vela padded bed. Caldomedio tones and shades of Blu and Navy create a ...
See the other products
Mob. Granzotto

There is a wide choice of all the furnishings proposed to offer functional solutions and practices in line with contemporary trends and the needs of young people.
See the other products
Dear snc dei F.lli Pozzi