The Online Architecture and Design Exhibition

... Therefore we have created bed MY! This is a wonderful opportunity to develop a bed design intended for your child only and featuring a special drawing – self-made painting. 4 steps ...

COMPACT AND ADVENTUROUS. WE TAKE A CRITICAL LOOK AT OBJECTS USED IN EVERYDAY LIFE, TAKE THEM APART AND REDESIGN THEM. WE ARE COMMITTED TO REDUCE THEM TO THE MOST IMPORTANT FORM ELEMENTS AND FUNCTIONAL FEATURES. AT STEININGER.DESIGNERS ...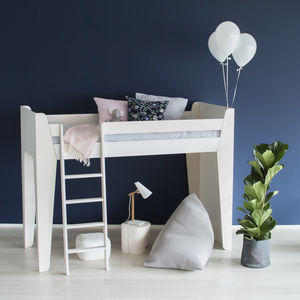 ... available in black or white. And thanks to its unique design, Ketara can be used both as a loft bed and a canopy bed. All you need to do, is to flip the bed around.
See the other products
LUMOKIDS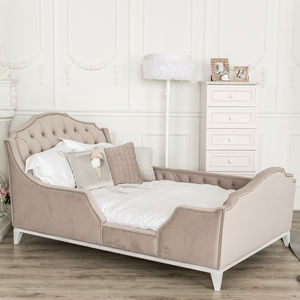 ... princesses. In addition, the soft sides of the bed will make girl's sleep not only pleasant, but also safe. Standard equipment: - Wavy head of the bed is decorated with carnations - Carcasses ...
See the other products
Atelier Lilu

Low wooden bed is an evolution of the existing brass beds Lóczy Institute. It provides safety, security and calm children. Closed railing on the back and both sides. On the front, the two curved rails ...

Wood: chipboard with cherry veneer + MDF carved drawer. All of our pieces are handmade; do you prefer a different color or size? Its possible to make a change in the finish and/or size according to your preferences.
See the other products
LOLA GLAMOUR

single bed
SPROSS by Christoffer Martens
The bed structure of the crib Spross does not contain any metal. It can be reduced to small dimensions for ease of transport. The different components only need to be fitted together. No tools are necessary.

single bed
TALE : 53300962
Drawer at the bottom of the bed can be used not only as storage for bedding, but also for children's toys. Item Id: 53300962 Category: NURSERY Collection: TALE Dimensions: Material: Chipboard

... comes with 3 boxes at the foot of the bed. As its owner grows older, these boxes are removed to make room for a 1.90-meter long mattress, which compares to the usual length of spring mattresses and bed ...
See the other products
KRETHAUS

... dreambox bunk bed has a timeless design, it is strong and very well made*. There's nothing fussy about it and the intelligent detailing provides plenty of room for a child's ...
See the other products
blueroom

After creating the Plywood Bed, Nicholas Rose saw the need to design a piece of furniture for children bedrooms as well. The Bunkbed came to life from the same set of ideas from which its parent bed is ...

Contemporary styled cot that can be converted into a junior bed. It has 2 fixed sides and 3 base positions Matress base size: 140x70cm Complies to standards BS 716 and BS EN 8509. Material: birch/MDF Dimensions: ...
See the other products
Troll Nursery Deutschland

single bed
HORIZON ORIENTAL
The Horizon toddler bed will be the perfect ally for the little ones of the house. Comfortable, cozy and modern your toddler will love their first bed! Sides are folded back to protect kids from falling ...

See the other products
Hasena AG

Finish: Custom Pink / Gold Gilding Bed Size: Twin Dimensions: H: 102" W:48" L: 83" Bedding and mattress sold separately.
See the other products
AFK

Unicorn curtain for the halfhigh bed 90×200. The curtain fits both BASIC and PREMIUM. The curtain is made of Ecotex-certified fabrics and is washable at 30 degrees C. The curtain creates a little cave under the bed ...
See the other products
Hoppekids

... Kutikai mattress for the bed, size 160x80 cm. function The transition from crib to toddler bed is a very important moment in child's development. A larger bed ...
See the other products
KUTIKAI

The classic pirate bed with porthole, steering wheel, jolly roger and a climbing rope.
See the other products
DE BREUYN

... with the bed and fitted sheets are available as an option. Characteristics Convertible bed in birch multi-plywood, oak decor. Usable until 7 years old with the 150 cm extension. Transformable ...

pull-out bed
By Raul Abner
... Includes plywood bed bases. 2 bed version is suitable for mattresses 70x140/145, bed total height 70 cm, depth 75 cm and lenght 154 cm. 3 bed version is suitable for ...
See the other products
Radis

The Mum and Dad Factory bed is a perfect transition between a baby cot and a "big kid bed". The mattress height and the dimensions have been adapted in order to offer maximum comfort ...

canopy bed
CASA by Pinar Yar Govsa
Children love to create themselves a little child-sized play spaces, like under the table or in a toy box to play pretend. "Casa" is designed for kids to feel like it's their own little house. It is more ...
See the other products
LIL GAEA

A sturdy construction that will offer your children many nights of happy dreaming. Made of solid beech wood, treated with water-based varnish. Includes fit-in wooden slats.
See the other products
COCO-MAT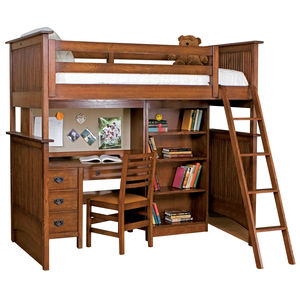 loft bed
STICKLEY STARTER : AN-1955-032
Details For use with AN-1988 Student Desk. Wood species is Oak. DimensionsH23 W45 D12½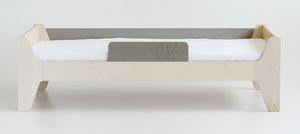 The bed of an older sister or brother will not only delight the sleeper when a new arrival joins the family, but will also prove to be a great addition to the nursery layout, taking its place among the ...