How to choose this product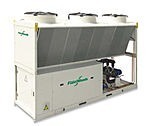 A chiller is an industrial or commercial refrigeration unit for cooling ambient air or machinery. Its waste heat can also be recovered and put to good use. ArchiExpo offers a broad selection of chillers, including absorption and condensation (air or water) models. The condensation type is the most common.
Applications
These devices cool large interior areas in commercial and industrial settings.
Technologies
The chiller is a cold-water air conditioning system. The two main types are direct expansion, where the refrigerant liquid is used directly, or indirect expansion, in which the refrigerant cools an intermediate liquid (e.g., water), which then cools the ambient air.

Cold water units use two different methods:
- Air condensation models are air/water systems. The chiller uses air to cool water, which then cools the ambient air in the target space. The source is abundant and free.
- Water condensation chillers are water/water units in which the cooling source is water. The chiller releases energy to a water network feeding the output system.