How to choose this product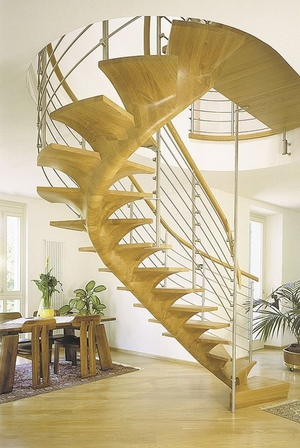 The difference between a circular staircase and a spiral staircase is that the former is not supported by a vertical central column. This improves visibility from one level to another, which may enhance the sculptural aspect of the staircase and increase luminosity. On ArchiExpo, such staircases are categorized by properties including structure or materials.
Applications
The curved quality of a circular staircase can create an attractive focal point between floors and spaces in domestic, commercial or public environments. It also may be compact, and is sometimes used for fire exits or maintenance access.
Technologies
Wood, stainless steel, reinforced concrete and other materials are used to make these stairs.
How to choose
Consider whether staircase form or function is more important. Step and handrail dimensions should comply with building codes, and stairs for fire exits and maintenance access must meet applicable safety standards.

Verify that materials are appropriate for user needs. Where young children are present, balusters should not be too widely spaced. Other features, such as lower handrails, may be necessary.

Consider how the aesthetic qualities of the staircase benefit the space. Comfort, noise and ease of cleaning are also important. An organic-shaped smooth wooden staircase may be pleasant to the touch and easy to clean, but can generate more noise than a carpeted version.
Advantages
- May be attractive
- More open than a spiral staircase