How to choose this product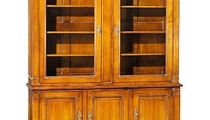 A classic china cabinet has a style, form and/or fabrication method associated with a particular period. It is used for displaying china and other delicate objects. While a Directorate style cabinet has simple, neoclassical lines and minimal ornamentation, a Baroque model tends to curved lines and elaborate decoration. On ArchiExpo, this furniture is categorized by properties such as period or style (e.g., Baroque), or finish (e.g., lacquered).
Applications
Such cabinets are typically used to display china or other attractive objects. They can be part of an ensemble of period furniture or constitute a unique decorative piece.
Technologies
This furniture is usually made of solid wood using traditional joinery. It is often finished with wax, varnish or lacquer.
How to choose
Consider how the finish and style will complement the surrounding furniture. Determine maintenance requirements, including the possible need to reapply special finishes. Evaluate resistance to staining, scratching and impact.