How to choose this product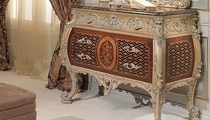 A classic sideboard is a table with cupboards or drawers normally designed for storing tableware or other items. It features construction methods, materials or forms associated with a particular epoch. On ArchExpo, these items are categorized by properties such as style or material.
Applications
This furniture is found in both domestic and commercial spaces such as living rooms, corridors, reception areas and dining rooms. It may be chosen over other styles of furniture for properties such as its finish, construction or appearance.

It is used to store items such as tableware and linen, to display items or as a decorative piece. It may have an elaborately carved design with special finishes and veneers (as do some Louis XV pieces) or have a simpler, rectilinear form (such as Regency sideboards).
Technologies
Popular construction materials include solid woods, such as oak. Traditional joinery techniques are sometimes employed (e.g., mortise-and-tenon or dovetail joints).
How to choose
When choosing a classic sideboard, consider whether a particular style or finish is required to match other furniture. Ornate or simple, it may be designed to contrast or complement the existing decor. Ensure that drawers and cupboards are suitable for the items to be stored. The construction of the unit, including type and quality of materials, may affect its sturdiness and maintenance requirements.