How to choose this product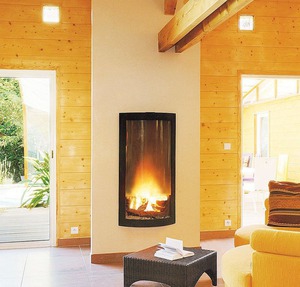 The closed fireplace is an architectural element consisting of a closed firebox or insert where combustion takes place, air intake and smoke removal system in an attractive package. It adds a decorative note to the room while heating various areas of the home.
Technologies
These fireplaces have a glass-ceramic door to separate the exterior cold air used to support combustion from the warmed air of the room, preventing heat loss. Their design favors circulation of the ambient air around the fireplace, heating it and redirecting it into areas to be heated.
How to choose
Choice of closed fireplace will depend on several factors, each of which influences room aesthetics:

- Positioning (freestanding or built-in, corner, wall or central location)
- Fuel (wood, wood pellets, gas, electricity, oil or mixed)
- Style to match room decor (traditional, contemporary, etc.)
- Finish material (stone, wood, steel, marble, ceramic, etc.).
Advantages
- Beauty and warmth
- High heat output
- Energy savings
Disadvantages
- Expensive