How to choose this product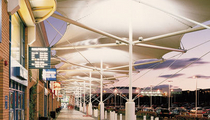 Coated fabrics are treated with special substances such as lacquer, oils, resin or vinyl to give them particular characteristics. They can be made waterproof or water repellent, weatherproof, or given enhanced mechanical properties or an altered appearance.
Applications
Such fabrics are used in architectural projects including tensile structures, awnings, wall and facade coverings.
Technologies
Coating can be via chemical or electrodynamic techniques, spray, immersion, foam application or other methods.
How to choose
The fabric must offer the required technical characteristics required by the specific use. Tensile structures involve high mechanical stress and impose the use of PVC-coated polyester fabrics or PTFE-coated fiberglass fabrics. These are high-performance materials that resist fire and adverse weather.