How to choose this product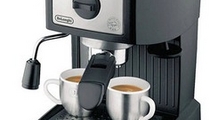 The coffee maker comes in two basic configurations. Either can be automatic or manual. The drip model is a basic machine for making large quantities, up to eight cups at a time. The espresso type uses loose coffee or single-dose capsules.
Applications
Coffee makers are found in homes, restaurants, bars, fast-food outlets and for employee use in many businesses.
Technologies
Automatic coffee makers shut off independently as soon as the coffee is ready, avoiding overflows. Manual models require supervision and must be started and stopped by the user.
How to choose
Choice will depend on capacity, desired coffee style and automatic versus manual operation.