The Online Architecture and Design Exhibition

smoothing coating
MICROCEMENTO
MicroCement is a coloured cementitious coating of 1-2 mm thick. It may be installed over existing surfaces such as concrete, ceramics, marble, mosaics, tiles, steel, plaster, gypsum and wood. MicroCement is one of our ...
See the other products
EDFAN

... COATS are specially developed glass aggregates which have been surface treated with a multi-layer coloured or transparent coating. The patented production procedure for these high-quality concrete and screed glass-aggregates ...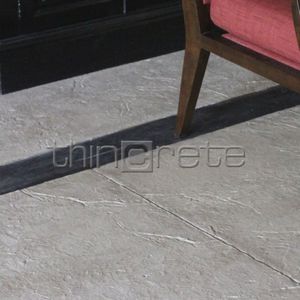 exterior coating
THINCRETE®
2-4mm coloured cementitious coating with texture imitating natural stone. Different textures can be achieved as Flagstone, granite, coquina, etc. It can be installed on floors, walls and stairsfor interior and exterior ...

outdoor coating
FLOORGUM TYRE
... resistant and with no maintenance required, it offers a very economical solution Key Benefits Can be used as a protective coating if combined with our liquid waterproofing products Acriflex Winter and Acriflex Fybro Ideal ...