The Online Architecture and Design Exhibition

modular bookcase
MAGISTEO

contemporary bookcase
MAGISTEO

contemporary bookcase
MAGISTEO

traditional bookcase
MERLIN
MOD. ME2003 CM W 213 D 48 H 210 CM IN W 83 3/4" D 19 " H 82 3/4"

traditional bookcase
ZAFIRO
Mod. 303256-1 CM w 239 d 57 h 214 cm IN w 94" d 22 1/2" h 84 1/4"

Blake is a modular bookcase system easily customizable to any measures needed. The custom-made nero marquina marble doors have a lightweight core that conveys solidity. This glaring modular brass and walnut wood structure ...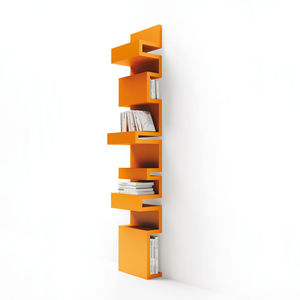 wall-mounted bookcase
TODO by Giulia Contaldo
"TODO UNDERSTOOD AS "EVERYTHING": SIGN, SHAPE, STRUCTURE,FUNCTIONAL SPACE" Built-in bookshelf segmented by plexiglas inserts. Finishing: textured lacquered mdf, sandblasted fir wood. Dimensions Todo 35 x 50 x 260 cm Todo ...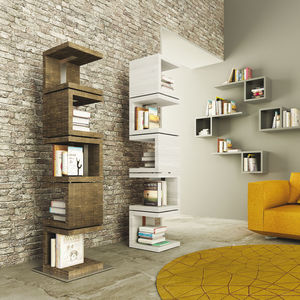 modular bookcase
UNO+ UNO- by Fabrizio Contaldo
"VARIABLE COMPOSITION, GUARDIAN OF PASSIONS" Modular bookshelf with overlapping elements, open on all sides. Finishing: sandblasted fir wood, TS fir wood . Version UNO – is supplied with a steel base. Dimensions UNO + 35 ...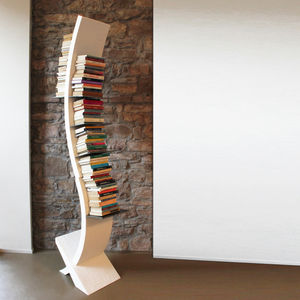 high bookcase
E.SE by Fabrizio Contaldo
Sanded laminated wood harmonic bookcase with natureffekt treatment and painted metal shelves. Dimensions: cm 48 x 40 x 230

contemporary bookcase
D05
Finish: blanco matt and roble. Handle: T4 blanco L 186,2 H 133,8 P 47,1

contemporary bookcase
D06
Finish: ceramics luna, roble, blanco matt and glass parsol gris. Handle: touch-latch. L 185 H 131,9 P 47,1

modular bookcase
B-302 by Barbi Bottazzo
design barbi bottazzo B- 302 is a modular bookcase that is suitable for home, office or shops. Entirely made of metal which ensures its durability in time, B-302 is painted with a powder coating which, in turn, guarantees ...

[PV]+[AMT] produce a new system of filing cabinets. Our [PV]+[AMT] give you a complete program of metal cabinets tailored to all needs. The cabinet is based on a single outer metal case, on modules of multiple dimensions and a variety ...

modular bookcase
COMPACT CUBO
... thickness 14 mm and they are fixed with the appropriate metallic brackets which allow to have a more resistant structure. In the bookcases it is possible to assemble internal or external classifiers with front panels, ...

contemporary bookcase
LEES by Borja García
A schematic, formally elegant bookcase invites you play around with the spaces and objects you are going to display here. A versatile solution which is ideal for places like the living or dining room which highlight the ...

contemporary bookcase
900
Bookcases, wall-mounted closets, walk-in closets, tables, kitchen base frames in annealed or tempered glass.

Adagio combines elegance and practicality. Apparently placed at random, the horizontal shelves and vertical partitions create an harmonious construction of areas and compartments of different dimensions. 3 closed compartments and a drawer ...


modular bookcase
BACKUP CUBE by Angelo Pinaffo
Modular shelving with epoxy-coated, extruded, anodized aluminium frame. Shelves made of tempered glass, wood and sheet steel are available in various sizes. The small cast aluminium block allows tilting the top in different positions. ...

classic bookcase
VILLA VENEZIA: 11301

... in 3 widths and 3 heights every bookcase comes fitted with the appropriate number of adjustable shelves that are coloured to match the carcass finish. This unit is desk height and available in 3 widths. 3-high Bookcase

high bookcase
LATERALFILE
... LateralFIle units at 300mm deep making them ideal for literature and display purposes. Available in 3 widths and 3 heights every bookcase comes fitted with the appropriate number of adjustable shelves that are coloured ...

contemporary bookcase
ACTA.CLASSIC
Systematic order. ACTA.CLASSIC The universal cupboard system ACTA.CLASSIC makes it possible to customise the storage for any office. The classic straight lines of the ACTA.CLASSIC design bring systematic order to any creative chaos. ...

modular bookcase
ACTA.MODUL
ONE ON TOP OF THE OTHER – A STACKING MIRACLE. ACTA.MODUL ACTA.MODUL creates storage to match all room layouts and furnishing styles. The craftsmanship is of a high standard, the fine materials are perfectly coordinated – so that even ...

modular bookcase
DOTBOX by Hangar Design Group
... the work station.DotBox is also ideal for creating wall compositions: whatever your needs, small- or large-scale storage, bookcases for frequent consultation, original storage spaces, you will always have the feeling ...

modular bookcase
PRIMO 1000 E 800
The Primo line of metal cabinets and containers offers modular solutions designed specifically for storage in office environments and for storage in general. These furniture units are not only storage units but also real elements for ...

modular bookcase
CWAVE by Gianmarco Blini
... design and aesthetic lightness of the bookcases.These modular collections are extremely versatile and can be easily accommodated into any furnishing context - be it home, office or communal area. Modular bookcase ...

high bookcase
FREEPORT by Dorigo Design
Tradition and innovation, this is the concept of Ofifran that characterizes a contemporary style. An idea for your office, a designed environment to reflect the individuality of those who live between technical solutions and a cutting ...
See the other products
Ofifran

wall-mounted bookcase
ART&MOBLE
The Art&Moble collection, which was developed 200 years ago, is modern and classic at the same time. It is characterized by its handmade quality, different possible types of finishes as well as its use of advanced design concepts. The ...
See the other products
Ofifran

low bookcase
PRIMA SINFONIA by Dorigo Design
A light and urban collection that represents a style that is a hybrid of high-tech materials and quality: metal, glass, leather and natural wood. The semitransparent architecture of the furniture creates an image of a manager with a modern ...
See the other products
Ofifran

high bookcase
BELESA by Estelles Design
The elegant simplicity combined with aesthetically pleasing finishes converts the office space into a whole new world, full of exclusivity, sophistication and at the same time a rational approach to interior design. Behind the apparent ...
See the other products
Ofifran

high bookcase
CONCEPTO by Estelles Design
The unique design bases its expression in the ease of the minimalistic shapes. The innovative collection was designed to give an active space an avant-garde image that is both exigent and dynamic.
See the other products
Ofifran

corner bookcase
TWO4SIX by Joey Ruiter
Two4Six improves collaboration within the private office. Individuals can work autonomously and leverage the same Two4Six desk to effectively collaborate with one to three other individuals, without having to leave their office. The versatility ...

wall-mounted bookcase
NN by Lars Frank Nielsen
The NN system is a functional and aesthetically pleasing furnishing system consisting of wall panels and free-standing partitions, storage units and work-tables which can be combined in an infinite number of ways and for all kinds of ...