The Online Architecture and Design Exhibition

Blake is a modular bookcase system easily customizable to any measures needed. The custom-made nero marquina marble doors have a lightweight core that conveys solidity. This glaring modular brass and walnut wood structure ...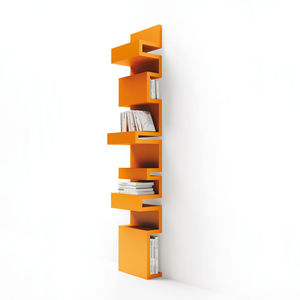 wall-mounted bookcase
TODO by Giulia Contaldo
"TODO UNDERSTOOD AS "EVERYTHING": SIGN, SHAPE, STRUCTURE,FUNCTIONAL SPACE" Built-in bookshelf segmented by plexiglas inserts. Finishing: textured lacquered mdf, sandblasted fir wood. Dimensions Todo 35 x 50 x 260 cm Todo ...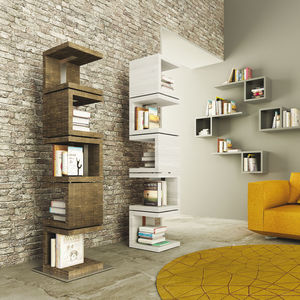 modular bookcase
UNO+ UNO- by Fabrizio Contaldo
"VARIABLE COMPOSITION, GUARDIAN OF PASSIONS" Modular bookshelf with overlapping elements, open on all sides. Finishing: sandblasted fir wood, TS fir wood . Version UNO – is supplied with a steel base. Dimensions UNO + 35 ...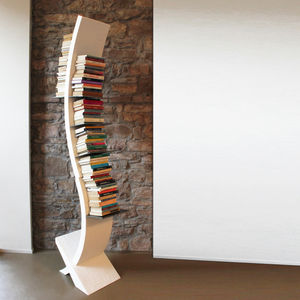 high bookcase
E.SE by Fabrizio Contaldo
Sanded laminated wood harmonic bookcase with natureffekt treatment and painted metal shelves. Dimensions: cm 48 x 40 x 230

contemporary bookcase
D05
Finish: blanco matt and roble. Handle: T4 blanco L 186,2 H 133,8 P 47,1

contemporary bookcase
D06
Finish: ceramics luna, roble, blanco matt and glass parsol gris. Handle: touch-latch. L 185 H 131,9 P 47,1

low bookcase
RARUM by Koray Malhan
Rarum designed by Koray Malhan is a storage unit that boasts of an unusual solution for storage and display requirements. It may either be used in front of a wall or act as a warm partition, heightening the area's depth. Large drawers ...

room divider bookcase
TUBE
An abstract stacking of volumes that provide a rich variety of utilities. Tube is designed by Studio Kairos as an abstract stacking of volumes that provide a rich variety of utilities. While the cabinets serve as storage units, the empty ...

contemporary bookcase
SPACE by Faruk Malhan

modular bookcase
B-302 by Barbi Bottazzo
design barbi bottazzo B- 302 is a modular bookcase that is suitable for home, office or shops. Entirely made of metal which ensures its durability in time, B-302 is painted with a powder coating which, in turn, guarantees ...

modular bookcase
COMPACT CUBO
... thickness 14 mm and they are fixed with the appropriate metallic brackets which allow to have a more resistant structure. In the bookcases it is possible to assemble internal or external classifiers with front panels, ...

[PV]+[AMT] produce a new system of filing cabinets. Our [PV]+[AMT] give you a complete program of metal cabinets tailored to all needs. The cabinet is based on a single outer metal case, on modules of multiple dimensions and a variety ...


contemporary bookcase
LEES by Borja García
A schematic, formally elegant bookcase invites you play around with the spaces and objects you are going to display here. A versatile solution which is ideal for places like the living or dining room which highlight the ...

modular bookcase
BACKUP CUBE by Angelo Pinaffo
Modular shelving with epoxy-coated, extruded, anodized aluminium frame. Shelves made of tempered glass, wood and sheet steel are available in various sizes. The small cast aluminium block allows tilting the top in different positions. ...

classic bookcase
VILLA VENEZIA: 11301

Adagio combines elegance and practicality. Apparently placed at random, the horizontal shelves and vertical partitions create an harmonious construction of areas and compartments of different dimensions. 3 closed compartments and a drawer ...

Whether double doors, glass hinge doors, wide drawers or horizontal roll-front cabinet, with the PRISMA 2 cabinets you both establish elegant order and maximize the use of your office space! By a variety of combinations PRISMA 2 provides ...

modular bookcase
ACTA.MODUL
ONE ON TOP OF THE OTHER – A STACKING MIRACLE. ACTA.MODUL ACTA.MODUL creates storage to match all room layouts and furnishing styles. The craftsmanship is of a high standard, the fine materials are perfectly coordinated – so that even ...

contemporary bookcase
ACTA.CLASSIC
Systematic order. ACTA.CLASSIC The universal cupboard system ACTA.CLASSIC makes it possible to customise the storage for any office. The classic straight lines of the ACTA.CLASSIC design bring systematic order to any creative chaos. ...

modular bookcase
DOTBOX by Hangar Design Group
... the work station.DotBox is also ideal for creating wall compositions: whatever your needs, small- or large-scale storage, bookcases for frequent consultation, original storage spaces, you will always have the feeling ...

modular bookcase
PRIMO 1000 E 800
The Primo line of metal cabinets and containers offers modular solutions designed specifically for storage in office environments and for storage in general. These furniture units are not only storage units but also real elements for ...

modular bookcase
CWAVE by Gianmarco Blini
... design and aesthetic lightness of the bookcases.These modular collections are extremely versatile and can be easily accommodated into any furnishing context - be it home, office or communal area. Modular bookcase ...

The artistic vision of Piero Lissoni, creator of the Asymmetrical collection, is also behind the design of the Cento system of storage cabinets, a unique range capable of complementing all Tecno's executive collections. The strength ...

contemporary bookcase
SPIDER : 55014485
Set SPIDER meets modern design requirements. The combination of rich color of veneer with the classic black or white gives to executive office at the same time strict and stylish look. Item Id: 55014485 Category: CABINET Collection: ...

contemporary bookcase
GRACCE : 55012776
Set GRACCE is an elegant sample of fusion, combining bright design and modern business style. Thanks to the classic combination of dark and light colors, the cabinet highlights the status of its owner. Contrast inlay effectively focuses ...

contemporary bookcase
QUANTUM : 60357029
Retractable cabinet Retractable cabinets mark limits of an individual workplace and serve as a compact storage for documents. Being opened, they create a certain isolation of the working place. One more peculiarity of such cabinets consists ...

contemporary bookcase
ABC by Luca Scacchetti
The Abc range is designed for high-class environments, characterized by its extremely clean and strong personality, expressing authentic timeless values. It offers three possible customizations: A - B - C as three products in one: as ...

One cubical element, two cubical elements, many cubical elements L.480 mm that come together to offer everyone the opportunity to develop own office creativity with an innovative bookshelf made in their likeness. Cubical hanging elements ...

Single modules, joinable, can generate a functional storage system that can be personalized in finish and colours.

contemporary bookcase
BLOCK
Flexible and high capacity storage system. Available in open version, with glass doors and lacquered back-panel or with clear glass doors and back-panel.

Artmodul cupboards are ultimately very intelligent and highly aesthetic pieces of furniture in a first-class system. Would you like a single unit or a whole wall? Would you like to extend it with wardrobe sections? Let us know. We look ...