How to choose this product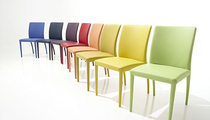 A commercial chair is intended for professional use and so is often designed to meet higher standards than other types. It is often more durable, robust and safer, and may be designed to comply with specific regulations. On ArchiExpo, this furniture is arranged by properties including style, material or use.
Applications
These chairs are found in a number of exterior and interior professional environments. They may be designed for office use, for restaurant dining or for relaxing, as in a hotel lounge. Some are upholstered or padded for added comfort. Certain models are designed for group seating. These may be modular to facilitate arrangement, or stackable or folding for easier storage. This type of seating may be used in theaters, schools and conference centers.
How to choose
Consider the number of chairs required, how they will fit into the space and whether they will be fixed or mobile. Sturdiness and ease of use are also important. Decide whether the style and color will complement or contrast with the setting and other furniture.

Regulations may require specific features. For example, office chairs may need to be adjustable and mobile to allow the user to adopt the correct posture without straining). Other factors include ease of maintenance, repair and replacement of broken parts.
Advantages
- Often higher quality than standard chairs
- Sometimes available in large quantities
Disadvantages
- Often more expensive than standard chairs