How to choose this product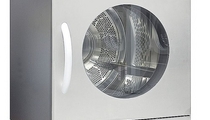 A commercial clothes dryer is designed for professional use and so is usually more robust, of greater capacity and designed for heavy use. It may be heated by electricity or gas. On ArchiExpo, these appliances are arranged by properties such as type (e.g., for clean rooms) or special features (e.g., coin operated).
Applications
Such machines are common in laundromats. Hotels and spas use them for drying linen and towels. They are also found in laboratories and clean rooms.
Technologies
While some standard dryers have a thermostatic shut-off to save energy, many designs now include moisture sensors, which are normally more accurate.
How to choose
Consider energy efficiency, which may be indicated by an Energy Star or other rating. Ensure that capacity is suitable for intended use and determine the need for energy-saving devices such as a moisture sensor. The machine should be robust enough to withstand the impact of hard objects such as coins left in clothing or other misuse. Evaluate ease and cost of maintenance, including the frequency of filter replacement.