The Online Architecture and Design Exhibition

pendant lamp
AMEBA by Pete Sans
The Ameba lamps present a new concept of modern hanging lamp that specifically adapts to the spaces where it's used allowing for the creation of bespoke compositions to suit any project requirements, ...
See the other products
VIBIA LIGHTING

Big pendant lamps are a Lievore, Altherr, Molina design. Vibia produce the Big pendant light in two sizes which both provide a practical solution to those interior design projects where it's necessary to have a lower ...
See the other products
VIBIA LIGHTING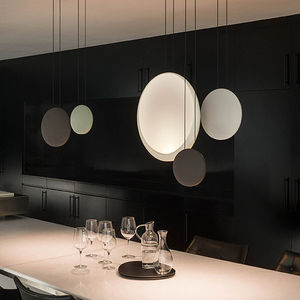 ... spheres that appear to be floating in the air. Vibia manufactures the Cosmos lamps in several finishes: matt lacquered dark brown, matt green, light grey and matt white. The use of LED technology makes ...
See the other products
VIBIA LIGHTING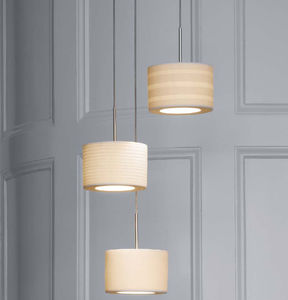 pendant lamp
TJAO by Peter Steng & Stefanie Hering
TJAO pendant lamps are available as LED- or Halogen versions with a choice of three different types of decor. Pre-assembled and ready-to-order installations for dining table lamps and mobiles are on pages 62 – 65.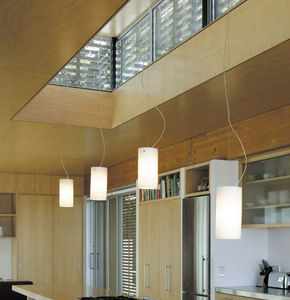 pendant lamp
TUBOLARE by Peter Steng
These pendant lamps made of mouth-blown, opal- lined, white Murano glass have an air of floating lightness. Their fine steel cables coupled with a transparent silicone cord underline this sense of weightlessness.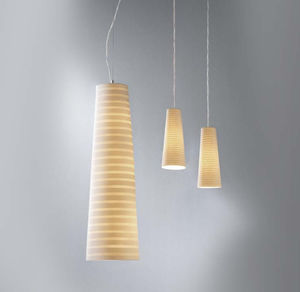 pendant lamp
VINCI by Stefanie Hering
Both the form and the finish of these lamp shades are made entirely by hand, making every single lamp unique. The 230V lamps are fitted with a silicon cable and a stain - less-steel ...

floor-standing lamp
MONSIEUR by Alfonso Femia
A lamp that is both down to earth and inclined forward to light up the working desk must possess authentic geometric lines; and its silent presence expresses the relationship with the space. Thin surfaces contain the ...

desk lamp
MONSIEUR by Alfonso Femia
Item code D109DS2...1DN Place installation indoor Name Monsieur Freestanding with Desk Connection / D109DS2...1DN table lamp Standard colour DN - embossed white RAL 9003 Environments office, retail areas, study areas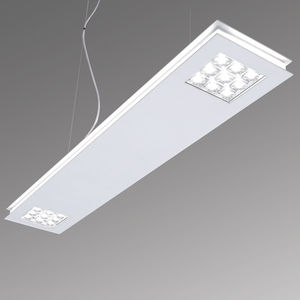 pendant lamp
MONSIEUR by Alfonso Femia
Item code DD109SD201DN Place installation indoor Name Monsieur Suspension / DD109SD201DN suspension Standard colour DN - embossed white RAL 9003 Environments office, retail areas, study areas

ERA Solar is dedicated to designing and manufacturing solar lights. We are mainly developing some series, such as Solar lawn light, Solar cast aluminum light, Solar resinous craftwork light, Solar festival light, etc. In order to unleash ...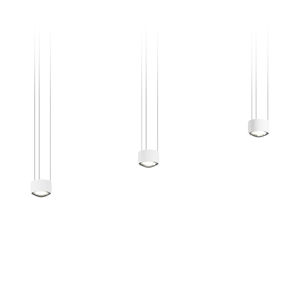 pendant lamp
SENTO SOSPESO TRE
Three-light LED suspended luminaire with integrated smart gesture control Height-adjustable suspended luminaire with three heads, each with 32 watt »perfect color« LED: Sento sospeso tre is the perfect luminaire for large ...
See the other products
Occhio

... die-cast aluminium, painted black (close to RAL9005) textured. Enclosure: 4mm thick extra clear glass. Complete with 3000K LED Dimensions: 436 x 436 x 725 mm Total power: 27.5 W Weight: 8.7 kg Scx: 0.19 m²

pendant lamp
ROOMER : 1.0
... all-rounders are now ready for check-in in red, grey or sleek black and can be arranged and combined individually, with a choice of lamp shades in aluminium or felt.
See the other products
WEVER & DUCRE

floor lamp
SUSPENCE™ by GamFratesi
... thinking in the area of lamp use. Nomad is designed to be placed on a horisontal surface e.g. a floor, staircase or terrace. It carries an appeal to be moved from place to place, without a permanent residence, just like ...
See the other products
Fritz Hansen

... the needs of the natural and the urban environment. Darkness and disappearance will be the contribution of "O" to nature and public spaces. Alejandro Aravena The more the planet becomes urban, the more we appreciate the ...

pendant lamp
VINTAGE 1906 PENDULUM PRO
Product benefits Flexible lighting thanks to countless mounting possibilities Made of solid aluminum with high-quality appearance Semi-matt surface with great look and feel Accessories for flexible mounting options included

desk lamp
GOLDMAN by Ron Gilad
Table lamp providing direct light. Aluminium structure with external transparent methacrylate diffuser and opal PC led diffuser.Optical switch sensor on the base that provide 3-step dimming function. ...
See the other products
FLOS

floor-standing lamp
FUTUREL® 5MS
Futurel® 5MS LED floorstanding uplights combine clear, striking forms with optimised light distribution for high direct light output. The microprismatic structure achieves homogeneous light distribution with a high, glare-free ...

portable lamp
CUBOS by José A. Gandía-Blasco Canales
"A collection of outdoor lamps inspired by basic geometric shapes to create spaces full of light." – José A. Gandía-Blasco Canales – CUBOS is a designer lamp inspired by overlaying a basic geometrical ...
See the other products
GANDIA BLASCO

desk lamp
TONE by Tom Newhouse
... It also capitalizes on the latest advances in LED technology to produce alluring illumination that makes everyone look their best. Considering all you get, Tone shines as one of the best values in the LED market.
See the other products
Herman Miller

pendant lamp
APLOMB by Paolo Lucidi & Luca Pevere
... starring role in the Aplomb lamps, a model that combines sophistication with texture to cast a concentrated beam of light downwards. Material Concrete and aluminium Light Source LED retrofit, ...
See the other products
FOSCARINI

Minimalist, elegant and strict. Neutra is a circular, extra-large hanging lamp, composed of two shell-like elements which enclose the structure like a snap-together toy. The structure's unusual shape diffuses the light ...
See the other products
Kartell

pendant lamp
AMIS DE JEAN by Gabriela Chicherio
Shade (H 30 cm) in black lacquered aluminium. Black textile cable (L 150 cm). Round ceiling fitting Ø 10 cm. Supplied with 1 x Hi spot 95 E 27 75 W halogen bulb with 30°diffusion angle. THIS LIGHT IS SOLD WITH AN ENERGY CLASS C BULB. ...
See the other products
Ligne Roset Contracts

floor-standing lamp
IPLAN
Direct/indirect light emission LED floor lamp. Optical assembly in anodised extruded aluminium, methacrylate diffuser screen. Extruded aluminium support rod; steel base with no-skidrubber feet; 2m long ...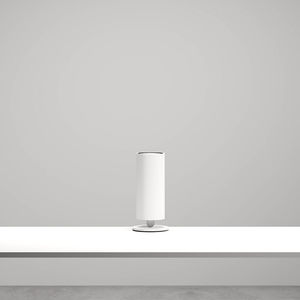 Stream is different. The focus is not on the luminaire, but on pure light. Stream illuminates the ceiling without a ceiling-mounted luminaire – it is a light source, but not the centre of attention. The ceiling itself is the reflective ...
See the other products
REGENT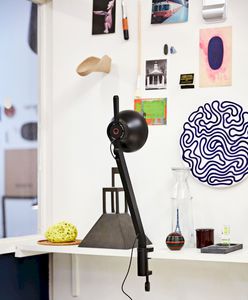 desk lamp
PC SINGLE by Pierre Charpin
Pierre Charpin's PC lamp series is a family of refined and precisely engineered multifunctional task lamps that can be used in a number of ways – free standing, desk, clamp and wall mounted. The lamp ...
See the other products
Hay a/s

pendant lamp
CHALICE by Edward van Vliet
The fine crystal beauty of the Chalice Lamp is enhanced by a soft metallic-grey body with black rings at the base of each translucent silver glass chalice. The result is a new bouquet of light, available in two sizes.
See the other products
moooi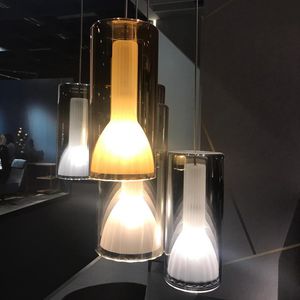 pendant lamp
LIT by Umberto Asnago
Suspensions with metal structure and shade in borosilicate glass.Outer shade in the colors: blue, violet, orange and gold. Inner shade in striped sandblasted glass. Ceiling canopy in white or titanium varnished metal.
See the other products
PENTA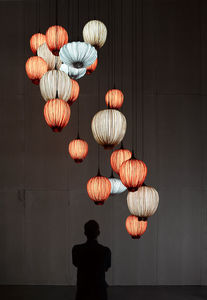 pendant lamp
MORNING GLORY : SUURIA SON
The Suuria Son pendant lamps are delicate floating orbs, derived from the stylized form of flower bulbs. Smaller than the Dippa, these vibrant silk designs are available as both table lamps and suspended ...
See the other products
Aqua Creations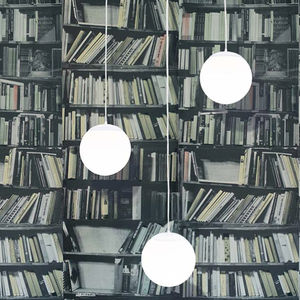 ... diameter UK/EU: PD04912001 US: PD04932001 Light source: UK/EU Max 100W, USA Max 100W (not included) Recommended Bulb: LED Globe bulbs 400 – 1000 lumen output and from 2700 K (for warmer with more colour) up to ...
See the other products
Innermost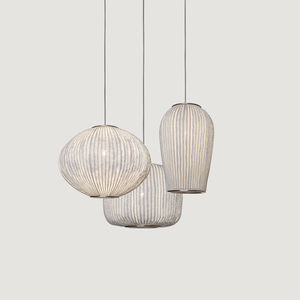 pendant lamp
CORAL : CO04-3
Organic looking pendant lamps, inspired by the beauty of coral reefs. The models of the collection, with their different forms and the elegance of their lines, result ideally to light any kind of room. The natural charm ...
See the other products
arturo alvarez