The Online Architecture and Design Exhibition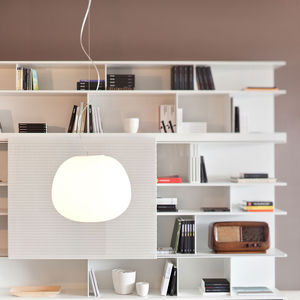 pendant lamp
LUMI F07 by A.Saggia & V.Sommella
The Lumi Baka pendant lamp has a diffuser in white blown glass with energy-efficient halogen or integrated LED bulb attachments. A very universal lamp that is well suited to the kitchen or living room ...
See the other products
FABBIAN ILLUMINAZIONE

floor-standing lamp
SPIKE by Oriol Llahona
... collection is precisely the characteristic pattern in the shade of its luminaires. The perforations are cut with laser and, when the lamp is on, they create a sophisticated game of light and shadows. SPIKE can be installed ...
See the other products
alma light

Lamp made in brass Made with rectangular tubes representing a rectangular frame on a rectangular base An oval glass globe in fixed inside (supplied) Lighting is made with a filament bulb This contemporary lamp ...
See the other products
CASADISAGNE

pendant lamp
CAVITY by da Costa & Wolf
A specially designed, curved aluminum body replaces the reflector in spotlight CAVITY. The illuminant is recessed inside this body, whose shape allows the light to spread freely as it is seemingly sucked outwards over the body. The result ...
See the other products
Serien

floor-standing lamp
ISASS OPEN AIR 03/10/11
ISASS OPEN AIR, outdoor lighting system with possibility of customized ground anchoring. The lamp can be placed on the ground by means of the "base" or with the "picket" accessory. It is available in three different heights ...
See the other products
lumen center italia srl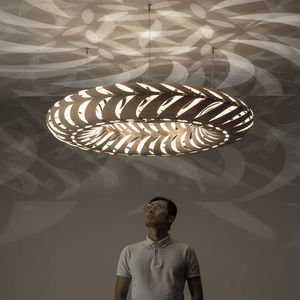 Maru is the newest concept luminaire from our studio and is made from 60 identical components that clip together to create an elliptical form. The name Maru is found in both New Zealand Maori and Japanese languages, with references ...
See the other products
David Trubridge Design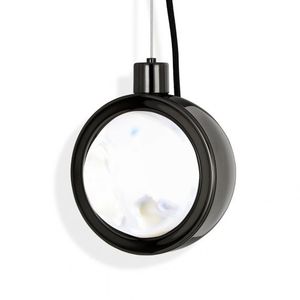 pendant lamp
SPOT : SPOP02BEU/SPOP02CEU
Framed in a plated stainless-steel surround, Spot Pendant is a massively thick glass lens designed to refract the light of integrated LEDs. Available in high-shine copper and glossy black. 6.3W integrated LED. Not dimmable SKUSPOP02BEU FinishPlated MaterialSteel FamilySpot Ceiling ...
See the other products
Tom Dixon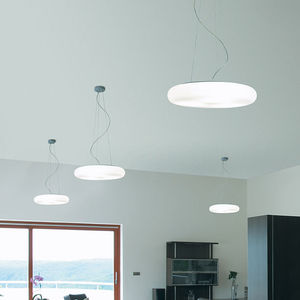 Type: suspension lamp Lampshade: white, hand-blown, three-layered, satin opal matt Metal parts: paint RAL 9006 structured Pendant: wire suspension
See the other products
LUCIS

pendant lamp
CHILL: 7330/6 by Massimo Zazzeron
Chill brings to mind the fluid lines and art and design where the graphic taste for compositions comes together with the simplicity of shapes. The matt, polished metal structures support metal- Murano blown glass spheres, with a disseminated ...
See the other products
MM Lampadari

floor-standing lamp
COPENHAGEN-F
See the other products
RICOMAN

pendant lamp
MINI ENDLESS by Jason Miller
Like Endless, Jason Miller's Mini collection was originally conceived to be a light fixture as architectural element. However, the scale and construction of Mini is inspired by wooden ship's masts. Before advanced materials and industrial ...
See the other products
Roll & Hill

... equally at home in a hospitality or commercial setting, or bring a warm glow to a living room, this stunning take on interior concrete lighting looks great whether on its own, or grouped with several other KALLA BRASS ...
See the other products
Living Concrete Ltd

With almost carefree delight, William designed his latest collection: Louise. A simple frame, decorated in a pleasing rhythm with glass lanterns. A hint of chaos, never far away in designs from William Brand, is present: the different ...
See the other products
Brand van Egmond

pendant lamp
LING P1 V by Li & Hui Lun
... Taiwan. The copper/ brass glow elegantly connects glass and metal shade. Through inner reflection of embedded LED light source, the adorable lamp impressively creates double ambience in one single fitting. High ...
See the other products
Seeddesign

Particular materials, individual crystals, fine and finely finished metals and high quality fabrics give their luxurious look to the hanging luminaires of the series. Pendant crystal chrome with finishes and lampshade in fabric black.
See the other products
grandoluce

Hand blown in crystal from Dartington, this is a classic design from Best & Lloyd. The bubbles are created by adding bicarbonate of soda at the right moment DIMENSIONS H: 36cm/14″ | W: 30cm/12″ With shade: H: 61cm/24″ | W: 42cm/17″ METAL ...
See the other products
best&lloyd

pendant lamp
STILL MOVING IMAX by Eugène Paashuis
DIMENSIONScm | inch LxWxH∅ 123X9X8 0 MATERIAL aluminium
See the other products
Quasar Holland

Category Office lamps Overall Height 680 mm The Dimensions Of The Base 185 mm Shade Ø250 × 230 H260 mm Shade Color 101, 301, 020, Crema 102, Blanco 101 Material Of Workmanship walnut, euro ash, black, ...
See the other products
Kandela

desk lamp
ROYYO by Kenneth Ng & Edmund Ng
Royyo adds an elegant flair to any space with its pleasing circular design. Available as a desk lamp, floor lamp or pendant light, its minimal silhouette houses complex inner technology for a marriage ...
See the other products
KONCEPT

floor-standing lamp
KULA-2
The "Kula" is our recreation of a tower floor lamp. It is neat and sexy, isn't it? And it still inhabits this industrial style we love! SIZE & SPECS - Height: (without the shade) 140cm/56"; (total with shade) 180cm/72"; - ...
See the other products
Paladim Handmade

See the other products
HOLIGHT

pendant lamp
TIMES SQUARE
Times Square classic Murano chandelier. The millenary art of Murano glass blends with the modernity of our century, thus creating works of art such as the Times Square chandelier. Elegant and refined, Times Square, will fill your home ...
See the other products
Magie di Murano

pendant lamp
MILL by Simo Serpola
Aluminum H 115 mm D 84 mm LED Mill is probably the most versatile luminaire BLOND has created to date regarding the angle of the light: 12°, 25°, 60° or simply a diffuse light are the standard angles giving the ...
See the other products
BLOND

floor-standing lamp
COPENHAGEN SC14 by Space Copenhagen
... specs18 Watt LED. The luminaire is energy class: A+. The built-in LED module can be replaced in this luminaire. Weight (kg)11kg EnvironmentIndoor Product typeFloor lamp Product typeFloor lamps
See the other products
Andtradition

portable lamp
LUCI PRO SERIES
... Nature's biggest fans. Highlights Clear finish NEW: USB port for two-way mobile charging (includes USB cord) NEW: 4 LED battery level indicator Full charge in as little as 2 hours via USB, lasts up to 50 hrs Top ...