How to choose this product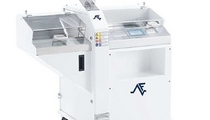 A commercial slicer is designed to cut different kids of foods into uniform slices in professional environments. It saves time and money while controlling the thickness, quality and presentation of the slices. On ArchiExpo, such devices are arranged by type (e.g., gravity, automatic) or type of food (e.g., bread, meat, vegetables).
Applications
These slicers are found in restaurants, bakeries, supermarkets, delicatessens and similar locations. Most are designed to cut a specific type of food. For example, a bakery bread slicer can cut an entire whole loaf at the same time, its collector keeping the slices together. A restaurant may have a multipurpose model for the rapid preparation of different vegetables and other products.
How to choose
Choose a slicer suitable for the type of food to be prepared. Consider the speed and power of the motor, the maximum size of food which can be cut, the range of slice thicknesses and whether the sliced food is collected neatly or not. Determine the quality and speed of the cut. Some slicers have a built-in blade sharpener and/or interchangeable blades for slicing different foods.

Evaluate ease of cleaning, energy efficiency and maintenance requirements. Check safety features such as a safety switch, finger guards or a non-slip base. Examine the terms of any guarantee or warranty.