The Online Architecture and Design Exhibition

Design track luminaire Construction sharp edged extruded aluminium profile Optic LMO symmetric ■ LMO asymmetric • LMO Wallwasher • Office • Opal • Satine (not for M36 Modular) ■ Microprisms (not for ...
See the other products
Selux

halogen track light
FOCUS by Gabriel Teixidó
Metallic wall or ceiling lamp. SIZES Focus Focus mini BULBS Focus Mini -Hi-Spot ES-63 75 W GZ-10 Halogen. Focus -Hi-Spot 95 75 W max. E27 Halogen. -Concentra R80 100 W max. E27. -Concentra R63 60 W max. ...

halogen track light
BOND TUBE MEDIUM
Halo Light DirectionStructure MaterialAluminiumDiffuser MaterialGlassStructure FinishWhiteDiffuser FinishTransparentLampLED 17,4WCRI80Lumens2031.10Lens Angle15º
See the other products
Leds-C4

230V track and wall/ceiling installation projector complete eith power supply unit.
See the other products
Mizar

... colour reproduction.• Tilt 90°.• Rotation 355°.• Universal adaptor compatable with Staff, Norlux, Global, Nuco and Nordic track light.

... 50/60 Hz. The luminaire is class II. Design Lamp head of cast aluminium with a lamp assembly consisting of 3 light intensive LEDs for reading light and 3 LEDs for night light. ...
See the other products
FAGERHULT

IP66, Class I. IK07. Marine-grade die-cast aluminium alloy. 5CE superior corrosion protection including PCS hardware. Silicone CCG® Controlled Compression Gasket. Safety glass lens. Anodised aluminium reflector.Including 0,4 m of flexible ...
See the other products
WE-EF LEUCHTEN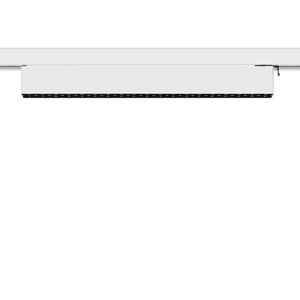 ... endless lighting possibilities. The track mounting is ideal to integrate with the profile of the Yori projector. Together with the surface or pendant the Yori Linear can be used for single and continuous lines of light. Features ...
See the other products
Reggiani Illuminazione

LED track light
OLMO by Giulio Iachetti
... combination of plain optical and mechanical elements: a linear track module, a junction that is also a power connection, and three luminous heads that offer different performances. The track's structure ...
See the other products
Danese

AUR 10 | spotlight | HIT-CE | 35/50/70 W The Auriga spotlight series is designed as recessed and contact track version. The design of the Auriga spotlight is aligned to its versatility. By its restrained and clear design ...
See the other products
LTS Licht & Leuchten

VERTICO is impressive with its classic design, its variable beam angle and its adjustable lighting colour. The clever focussing ring is its distinctive design and functional element. Rooms can be brilliantly presented with just one lighting ...
See the other products
RIBAG Licht

... LAMPS COLOR RENDERING (RA): 95 LAMPS DESCRIPTION: LED COLOR TEMPERATURE (K): 3200 POWER (WATT): 39 OPTICAL OPTICAL BEAM: 30° LIGHT EMISSION: direct PHYSICAL MOUNTING: track BODY: ...
See the other products
MARTINI Illuminazione

... comes with 26W led spots with 1950lm luminous flux. Led screen in microprismed polycarbonate. Great attention was paid to the led spots connection technique. As a matter of fact, thanks ...
See the other products
Aqlus

fluorescent track light
E52
industrial luminaire - reflector - rectangular - white lacquered sheet steel housing, with rapid mounting of reflectors line segment with double lamp length, lamp left total efficiency: 101% Mechanical characteristics dimensions: ...
See the other products
ETAP

Indoor spotlight model LOOK for accent lighting. With 1.100, and 2.000 lm LED multichip modules (CRI>90) with warm or neutral white color temperature and Medium Flood and Flood optics. Made of lacquered aluminium injection, ...
See the other products
LAMP LIGHTING

... spotlight series fitted with 9 LEDs is specifically engineered for installation on electrified tracks. Vertical and horizontal rotations allow multidirectional light output orientation and supreme flexibility. ...

halogen track light
AUREOL FRESCO FLOOD
The Aureol Fresco Flood is a specialist lighting tool for display and commercial lighting applications. Providing an even wash of light from a wide variety of light sources, the Aureol ...
See the other products
Strand Lighting

halogen track light
EASY : 766
Spotlight for installing in electric track. Stamped steel housing. Injected polycarbonate joint and trim. Adjustment system for the lamp-holder position, allowing light to pass correctly between the housing ...
See the other products
Troll, J Feliu de la Penya

HID track light
TRAC-MASTER® : AVIO X16404BL
Trac-mounted AVIOTM combines multi-lamp fixture functionality and aesthetics with a trac-based product that is easy to specify, cost effective to install and simple to reconfigure. AVIOs precision, die-cast frame with curved spanners ...
See the other products
JUNO

halogen track light
PURA S
... transparent, partially UV-absorbent, heat resistant plastic ring; faceted aluminium reflector, with multi adaptor for 3-circuit tracks 230 V. Modular design: reflector unit (consisting of safety glass, heat resistant ...

LED track light
T02F4043S / T02F6043S / T02F8043S
... even with warm CCT. It is also available with high CRI 97 with R9 over 95 for professional lighting request. Compatible with most track systems The LED track spot ...
See the other products
LUXRAY LIGHTING CO., LTD.

LED track light
MINISIMPLY
Linear LED lamp suitable for electrified track. Prismatic diffuser to limit the luminous glare. DOWN Emission. Integrated power supply
See the other products
TEAM ITALIA

LED track light
COIN SPOT AC
Track mounted LED spot lamp. Body is made of steel and aluminium and it is available in all RAL colours. Light source - Osram PrevaLED COIN 111 AC module. High quality, energy efficient ...
See the other products
Imperial - Factory of Downlights

... KEY FEATURES ✓ Versatility of rotation and angle adjustments ✓ White aluminium body ✓ 24W | 40W ✓ 4000K ✓ CRI >90Ra ✓ Tracks and components also supplied: follow link for details ✓ Applications: retail, display, ...
See the other products
RICOMAN

Product name: PlusB35 Projector for three-phase track high luminous output from modern desing. power supply 230Vac Luminous flux from 2200 to 5000 lumens Light color 3000 ° 4000 ° on request ...
See the other products
Co.E.M. S.r.l.