The Online Architecture and Design Exhibition

... uniformity and durability. Alkyd Final Sealer can be used as a primer for new wood, drywall and previously painted surfaces, and may also be used as on prepared, cured concrete, concrete ...
See the other products
GLIDDEN PROFESSIONAL

For a long-lasting durable finish, use BEHR PREMIUM Concrete & Masonry Bonding Primer. This high-performance water-based primer will promote a uniform topcoat finish and create a stronger ...

concrete primer
DEGA® PLAST
... indoor and outdoor surfaces. It is an insulating and gripping component of Dega® line coatings. Application Dega® Plast Primer: Apply directly on clean surface with a roller, a brush or spray. Quantities Consumption ...

PRIMER enhances the bonding between pre-formed sealants, like PENEBAR™ SW, and concrete surfaces aiding in the installation process. Quickly and conveniently applied at the job site by a simple brush application.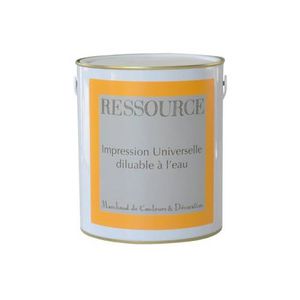 Quality - A fixative primer with great powers of penetration. Nourishes and stabilises supports. Type of support – Everything except sealed surfaces. All supports – porous, powdery and unstable surfaces, old worn surfaces, ...
See the other products
RESSOURCE


concrete primer
1346 SILISTONE
Transparent consolidating water-repellent siloxanic resin-based protective varnish used for the protection of buildings and objects made of stone, against the penetration of water and humidity and the action of acid rain; it also acts ...
See the other products
IMPA Contemporary ideas

Elastomeric bitumen primer. Solvent free (VOC), environmental-friendly, advised for indoor use. MAIN USES Solvent free and odourless primer for all types of substrates (concrete, ...
See the other products
Siplast

Synthetic latex to improve the properties of cement screed For use in the laying of single-layer lightweight screeds (Piano Zero system) to promote adhesion to the receiving surface and for the preparation of very thin smoothing screeds ...

concrete primer
BETOLUX AKVA
... Water-borne non-yellowing acrylate primer. PRODUCT FEATURES Suitable for priming new and previously untreated concrete floors before painting with Betolux Akva Floor Paint. The primer ...
See the other products
TIKKURILA

concrete primer
IDROPRIMER
Water-based bituminous primer used to prime concrete surfaces, to stop dusting and saturate their porosity, allowing polymer bitumen membranes to be laid and applied quickly. IDROPRIMER is non-flammable ...
See the other products
Polyglass Spa

concrete primer
CRETEO®REPAIR CC 171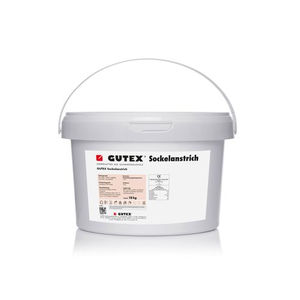 synthetic resin primer
SOCKELANSTRICH
Aqueous primer for the foundation (area subject to splash water) Applications Product Advantages • Water impermeable • Seals exposed foundation against splash water • Eliminates need to use different insulation ...
See the other products
GUTEX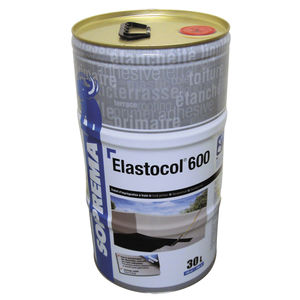 bituminous primer
ELASTOCOL® 600
ELASTOCOL® 600 is a ready-to-use cold-applied bitumen primer composed of elastomeric bitumen and volatile solvents for selfadhesive waterproofing sheets. Compatible with all substrate (concrete, metal ...
See the other products
SOPREMA

... EM is an odourless, viscous, solvent-free bitumen emulsion. PC® EM is used as a primer when gluing FOAMGLAS® insulation boards on priming subsurfaces such as concrete, masonry and plaster.

TEXPRIMER is an epoxy-water based two component primer. It is low-viscosity and odourless and, due to its high technology, catalyses with modified amines, inducing greater adhesion power on the support and achieving the ...

Highly effective as an adhesion-improving primer before applying after-coats on both absorbant and non-absorbant surfaces, e.g. plaster, concrete, plasterboard and on firmly adhering old coatings, e.g. ...

synthetic resin primer
EMULCIM
See the other products
CEGECOL

concrete primer
TYNKOLIT-U 340
Application Limits and levels absorbency, reinforces the groundwork, facilitates painting and increases paint adhesion to the groundwork. Features Increases groundwork adhesion Universal
See the other products
Kreisel

concrete primer
535 QS ENVIRO-LASTIC
... excellent hail resistance and low temperature flexibility. 535 QS Enviro-Lastic is for use directly over clean metal, cured concrete, spray polyurethane foam, EPDM and Hypalon roof surfaces. Also for use as a finish ...
See the other products
KARNAK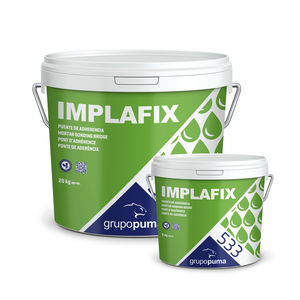 Adherence primer to promote cement, lime-based mortars and/or plaster-based renders´anchorage on smooth concrete or substrates lacking superficial absorption. Composition Product containing synthetic ...
See the other products
GRUPO PUMA

concrete primer
TARDIGRADE EPST 100
... Solvent Free, Epoxy Resin Based Primer Description of Product Tardigrade EPST 100, is a low viscosity, solvent free two-part epoxy resin based primer. Fields of Application • Internal and external substrates • ...
See the other products
TARDIGRADE YAPI KIMYASALLARI SANAYI TICARET A.S.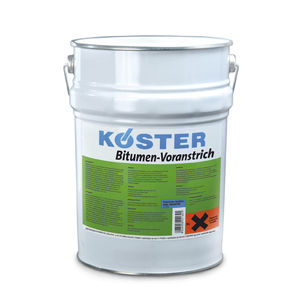 bituminous primer
W 110 010
Solvent containing dust-binding bitumen primer. Suitable for KÖSTER KSK cold applied self adhesive waterproofing membranes and polymer modified bitumen thick film sealants. Suitable as bonding agent for old bitumen.
See the other products
KÖSTER BAUCHEMIE AG

Dispersion fixative Universal fixative for decoupling and insulation underlays Version compatible with PROFOLIO and PROSECUREfibretec 2.0 Container 5 kg container Item No.: 93780

PRIMER ES40 is a two-component epoxy resin specifically formulated for the impregnation and consolidation of damp substrates with moderate porosity .It is applied on concrete blocks, stone material, wood, ...
See the other products
DRACO