How to choose this product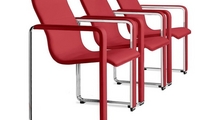 A conference chair is normally destined for meetings, conferences or lectures around a table. Its type may depend on factors such the length of time the occupant will remain seated and the number chairs.
Applications
A fixed, modular, folding or stackable chair may be used to seat numerous people in large lecture halls or conference rooms. Chairs which can be stacked or stored allow multipurpose spaces to be adapted to varying functions. Chairs designed for private offices or conference rooms, and for extended use may require padding and adjustable elements to improve comfort to avoid fatigue and strain.
Technologies
Popular construction materials include metal, wood and plastic (e.g., steel, pine and acrylic). Conference chairs may sometimes be upholstered, mounted on swivel bases, casters or have adjustable supports.
How to choose
Consider the number of chairs required, available space, frequency of use and whether they will be placed around a table or in rows, ensuring that there is enough room to circulate. Style and materials can be chosen to match or complement associated furniture, or to favor sturdiness. Chairs bought in large quantity should be easy to clean, maintain and repair; replacement parts should be readily available.